The gaming mouse market is as exciting as the mechanical keyboard market or other gaming accessories. Last year, the leading mouse manufacturers have actively launched many products with many bright upgrades from switches to sensors and especially the wireless race.
---
#1. Logitech G102 LightSync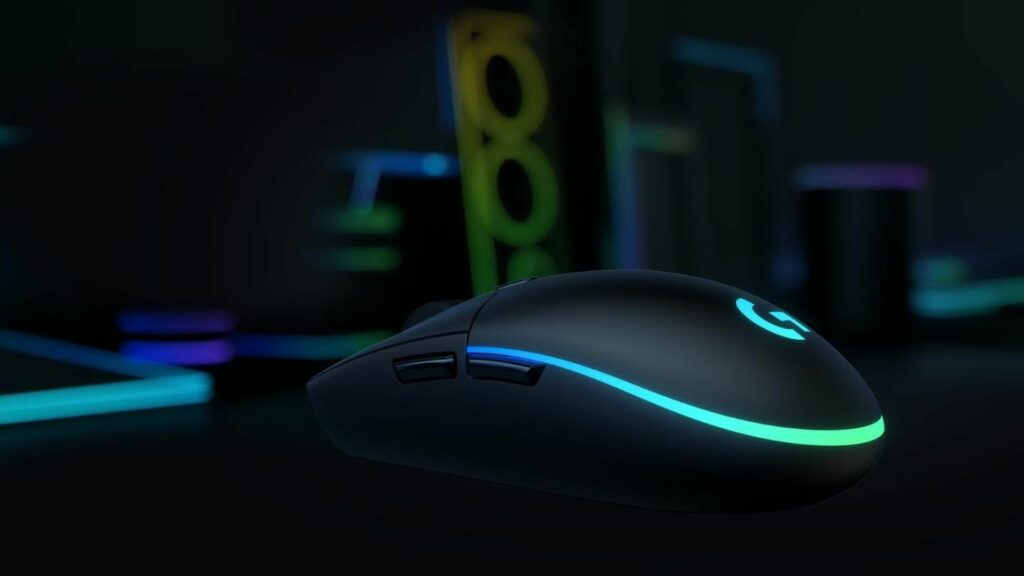 In the segment of cheap gaming mouse, good quality, good brand, and many features, I think Logitech G102 LightSync is the best candidate. In fact, this mouse model has been very hot since the first versions are G102 Prodigy. This mouse line has a funny, pebble-like, rounded design that will hug your hand in using, in stark contrast to the usual aggressive style of a gaming mouse.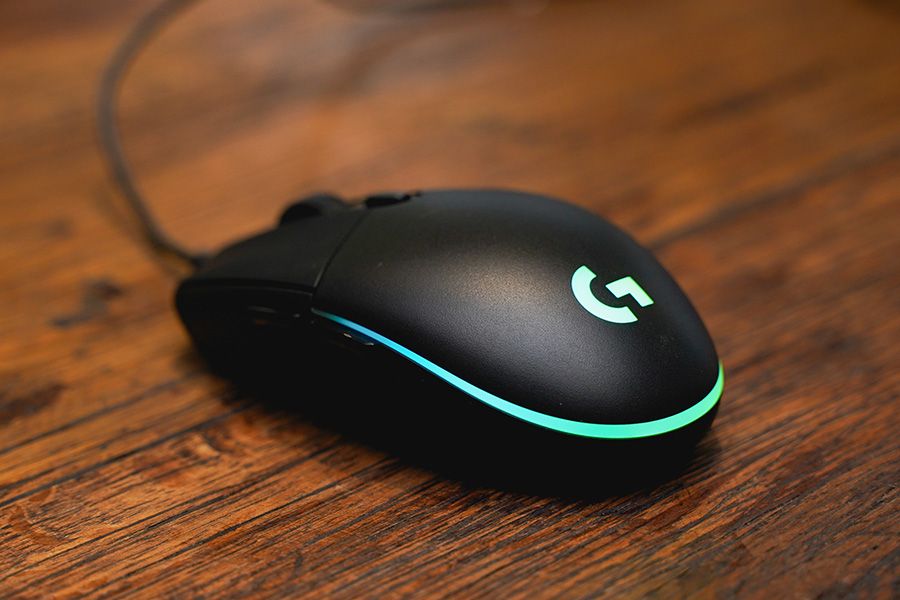 G102 LightSync uses an optical sensor with a maximum DPI of 8000 dpi. This is a cheap sensor, the previous generation was the Mercury series and with this generation, Logitech has upgraded. For users who play games infrequently, the G102 LightSync is an affordable choice because the price is only about under $30.
Logitech G102 LightSyncBest Overall8,000 DPI sensorColourful LIGHTSYNC RGBMechanical spring button tensioningCustomize the settings to suit the sensitivity you likePrice:$29.99Save: 0%See it
#2. Razer Viper Mini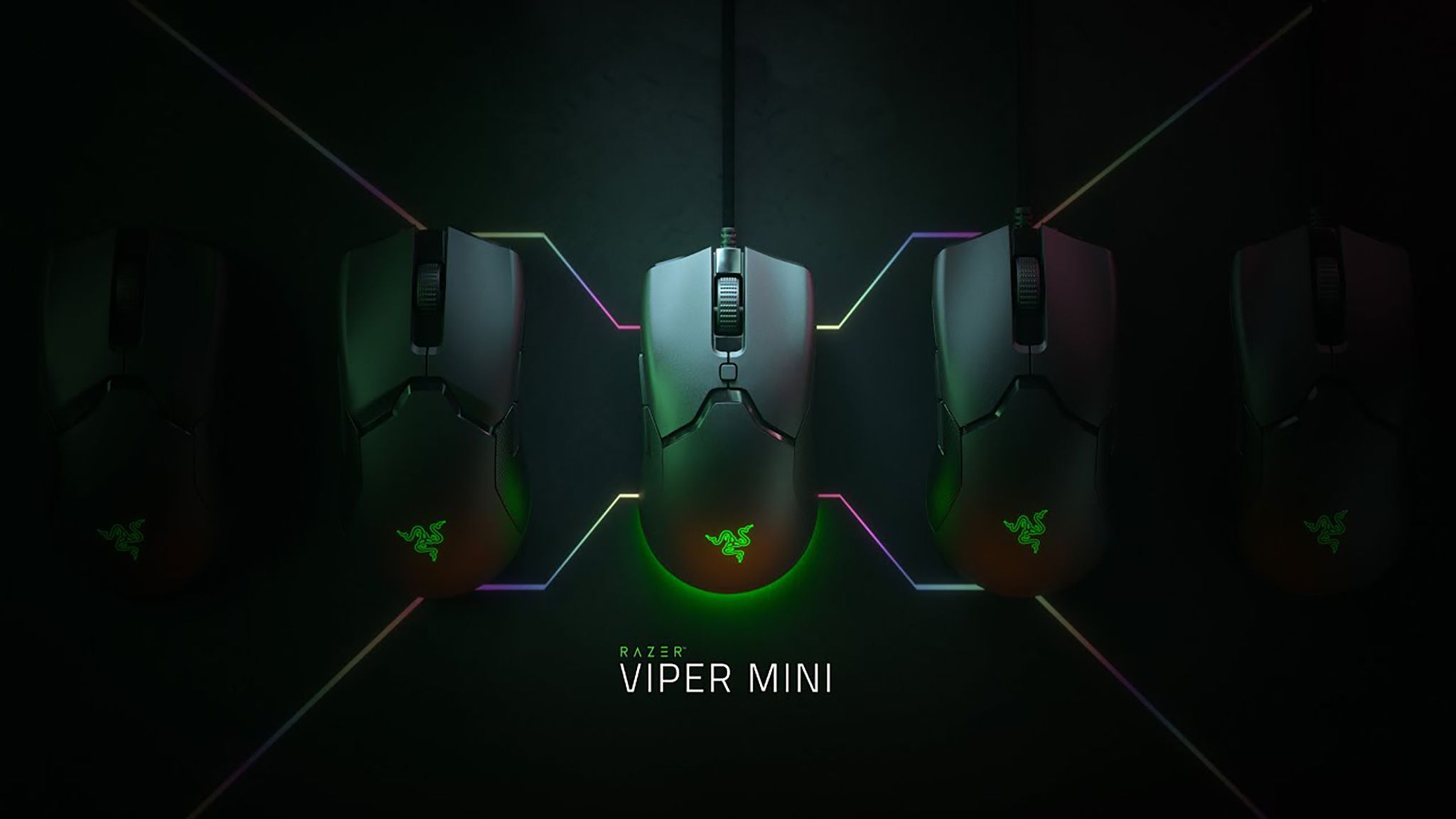 Also in the price range of less than $50 bucks, the Razer Viper Mini is a very good mouse model of Razer because it is merely a miniature version of the high-end Viper line, still equipped with a high-precision optical sensor, still has a high-precision optical sensor. Razer Chroma RGB lights, still equipped with Razer Optical switches and Speedflex low-friction cables.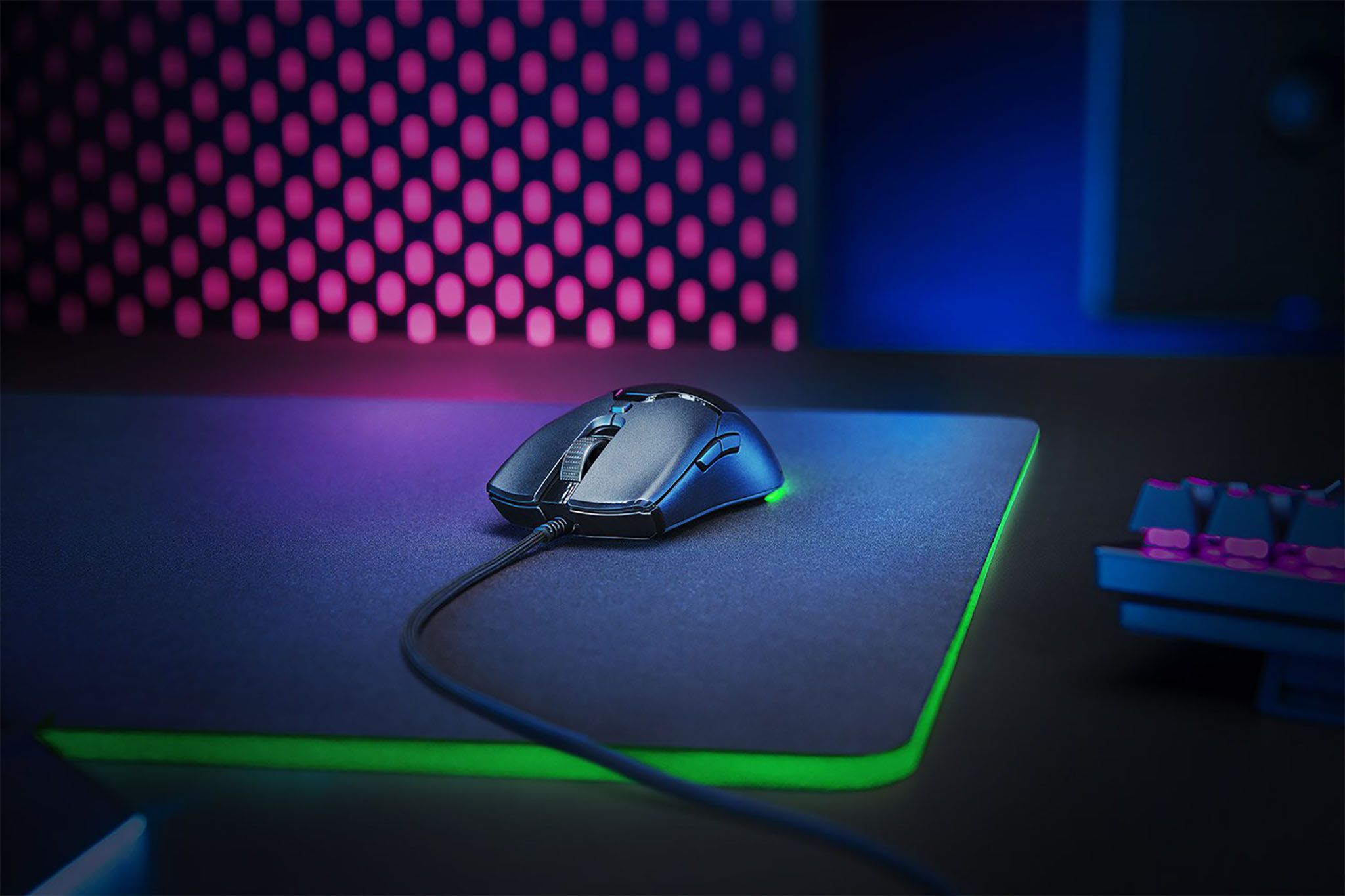 The design of the Viper series is generally in a symmetrical form that is suitable for many users, both big and small hands work well and with a weight of only 61 g, it is one of the lightest gaming mouse models available today. 2 mouse buttons separate from the back of the mouse and the Razer Optical sensor will eliminate the double click often seen with traditional mechanical switches.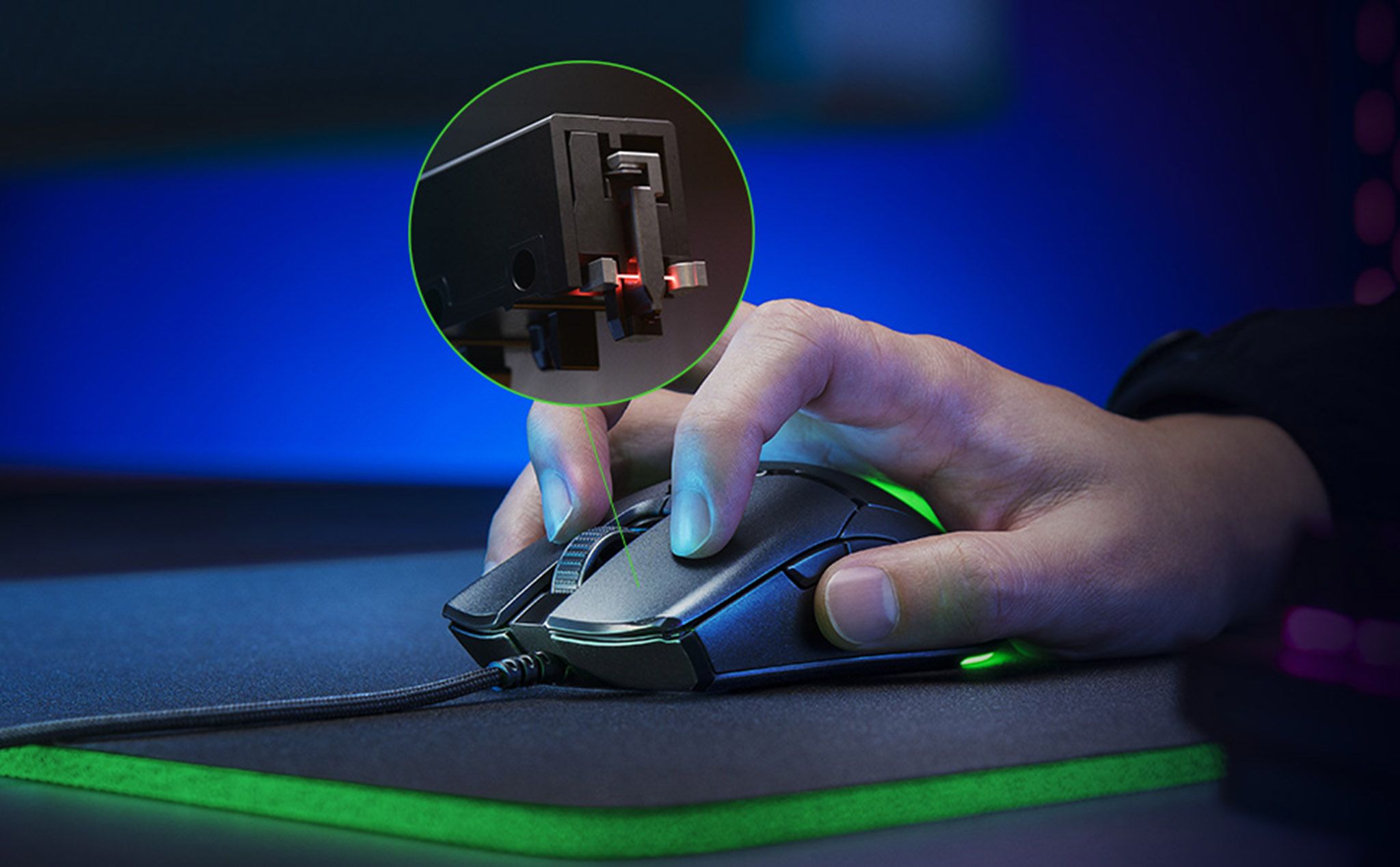 Although not equipped with the high-end Razer Focus+ sensor like the larger Viper versions, the Viper Mini still has the PixArt PMW3359 optical sensor – this is a Razer variant of the mid-range PMW3331 sensor. This sensor line has many variants used by other brands such as Roccat Kain 100 AIMO RGB, SteelSeries Rival 3, the performance can be said to be the best in the mouse segment under 40 USD. I have experienced Viper Mini and am very satisfied with what it brings, its price is currently around $40.
Razer Viper Mini Ultralight Gaming Mouse8500 DPI optical sensorFaster Than Traditional Mechanical SwitchesCustomizable Chroma RGB6 Programmable ButtonsDrag-Free Cord for Wireless-Like PerformancePrice:$36.99Save: 8%See it
#3. Corsair Harpoon RGB Wireless
If you have small hands, this is the best gaming mouse you want to get, it's easy to handle, wireless, cheap, Harpoon RGB Wireless is the most worth buying mouse. This is also a very appreciated mouse in recent times because of what it brings compared to the worthy price, less than $50.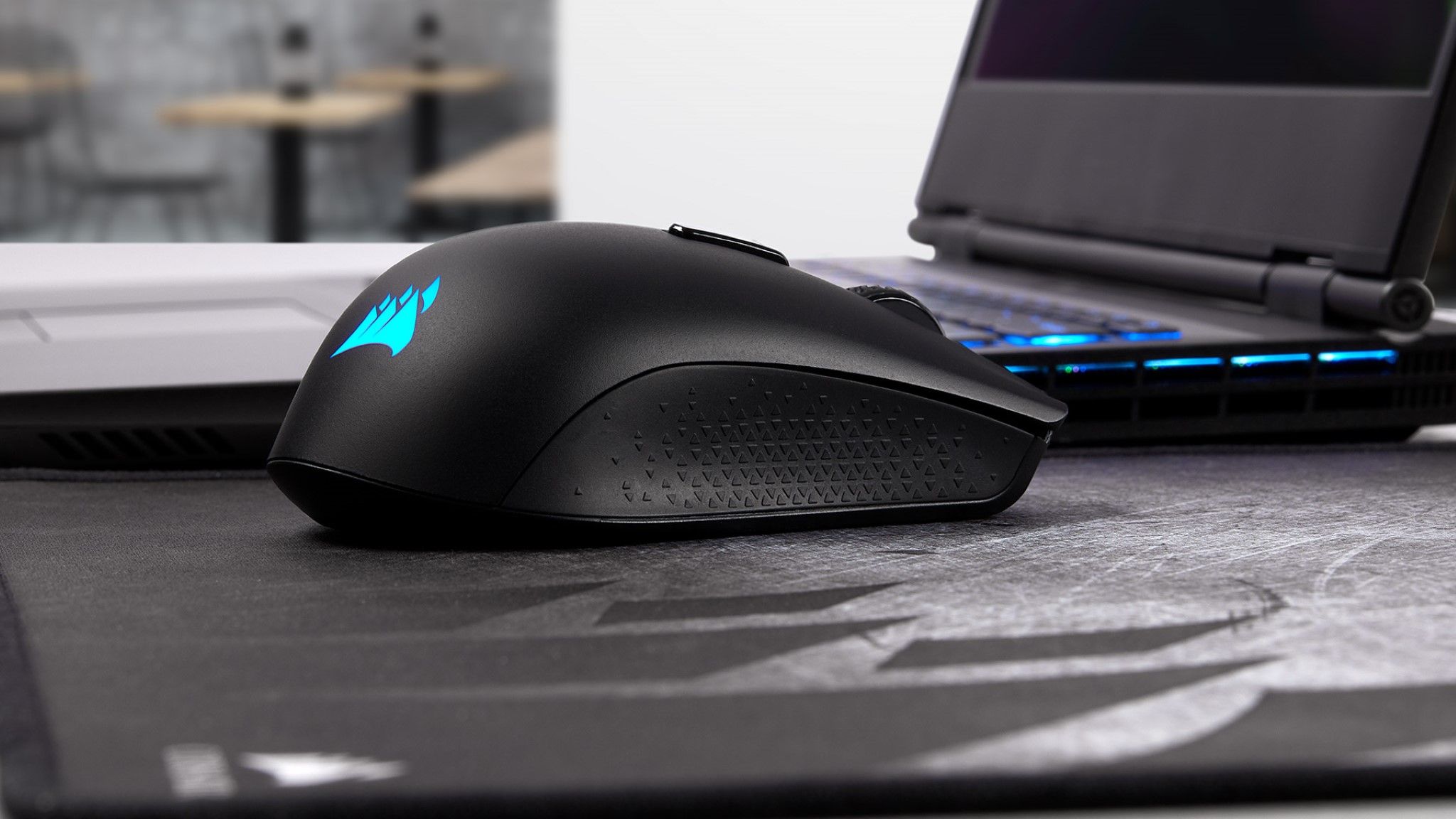 Harpoon RGB Wireless has a simple design and it looks more like an office mouse than a gaming mouse, the form is a bit hybrid between symmetry and ergonomics, weighing 99g so it can fit many styles of grip, especially claw and fingertips. The 2 main mouse keys are large and give a good press feeling with the Omron switch, the side button is reasonably positioned, has a fast DPI switch and the rubber layer on both sides also provides a better grip when manipulating at high speed.
Harpoon RGB Wireless uses the PixArrt PMW3325 optical sensor with a maximum DPI of 5000 DPI but it is enough to meet the gaming needs of gamers. Personally, I use a gaming mouse usually only at DPI levels of 400, 800, 1200, high DPI is only necessary with large resolution screens. Harpoon RGB Wireless supports wireless connection with Corsair's 2.4 GHz Slipstream technology, 30 hours of continuous use if the RGB lights are on, and 45 hours if the lights are off. In addition, it also has Bluetooth, and battery life in this mode will be longer, up to 60 hours if the lights are off.
Corsair Harpoon RGB WirelessBest Gaming Mouse For Small Hands.1ms Slipstream Corsair Wireless TechnologyWeighs Just 99 gramsContoured Shape and Rubber Side GripsUp to 60 hours of Battery Life6 Fully Programmable Buttons:Ultra Durable Omron Switches:Compatible with Xbox One to play mouse enabled gamesPrice:$44.99Save: 10%See it
#4. SteelSeries Rival 600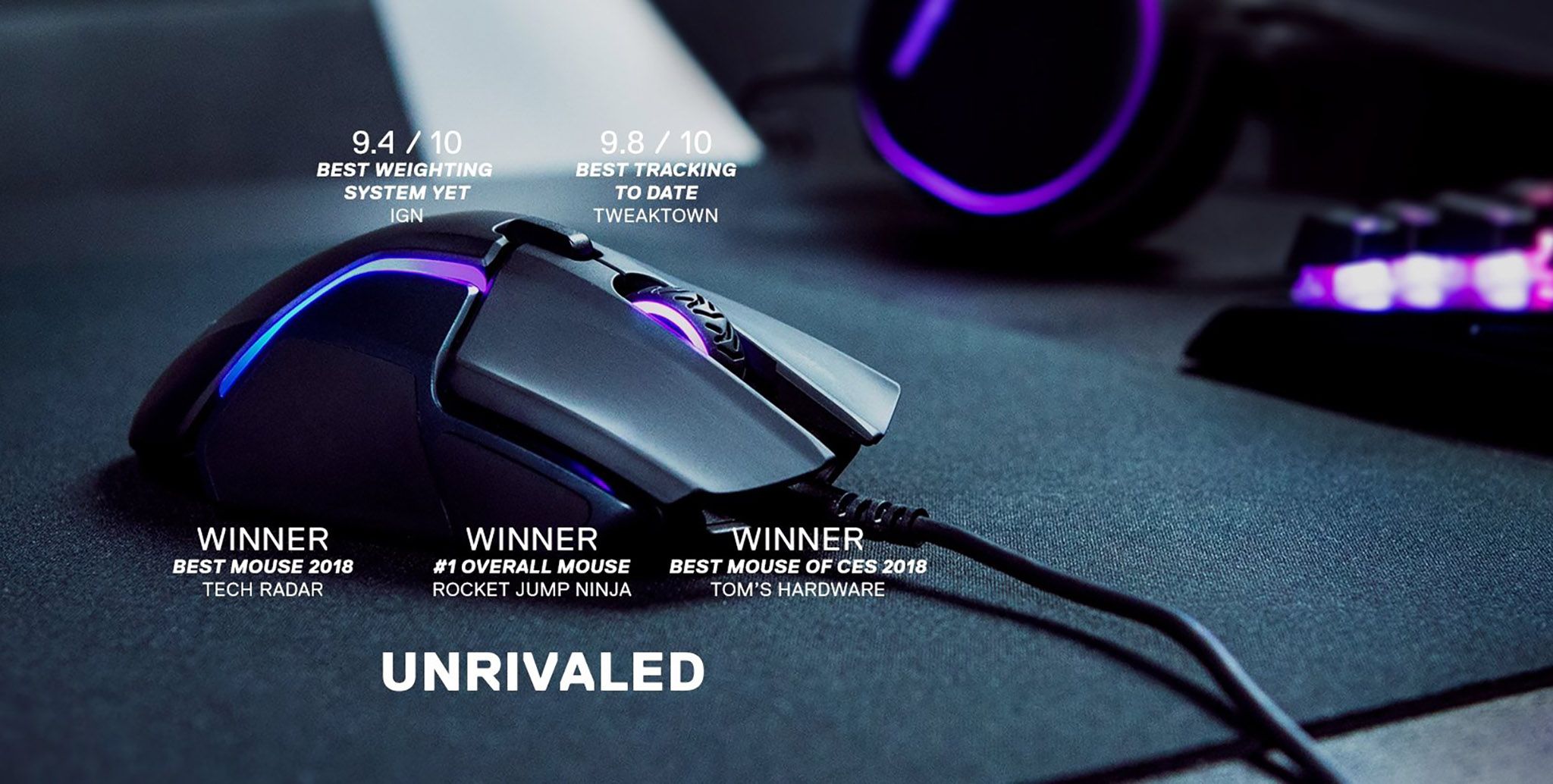 This is SteelSeries' high-end mouse model, unique design, highly customizable, and very accurate sensor. Rival 600 is suitable for those with large hands, holding the mouse in a palm or claw style, its weight is from 96 g but can add weight gainers to bring it up to 128 g. The lighting system of the Rival 600 is very impressed with the lights on the roller, on the back of the mouse, and the SteelSeries logo. The main buttons of the mouse are designed to be separate and give a very pleasant pressing feeling because of the moderate travel, clear sound, and good bounce switch.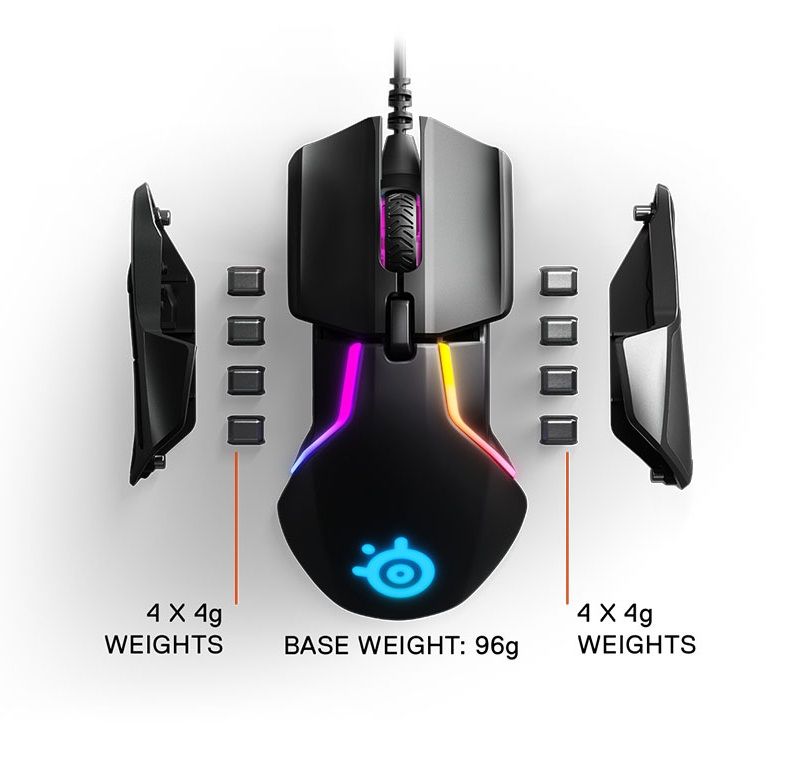 The most special feature of the Rival 600 is that it is equipped with up to 2 sensors, this technology is called TrueMove 3+ by SteelSeries with a depth sensor – serving to recognize the lift-off distance), limit the incorrect movements of the mouse pointer when lifting and releasing the mouse when playing games – a common action when you play FPS with low DPI, the other sensor is TrueMove 3 – a high-resolution optical sensor. High precision with max DPI 1200 DPI, 350 IPS speed specially developed by PixArt for SteelSeries.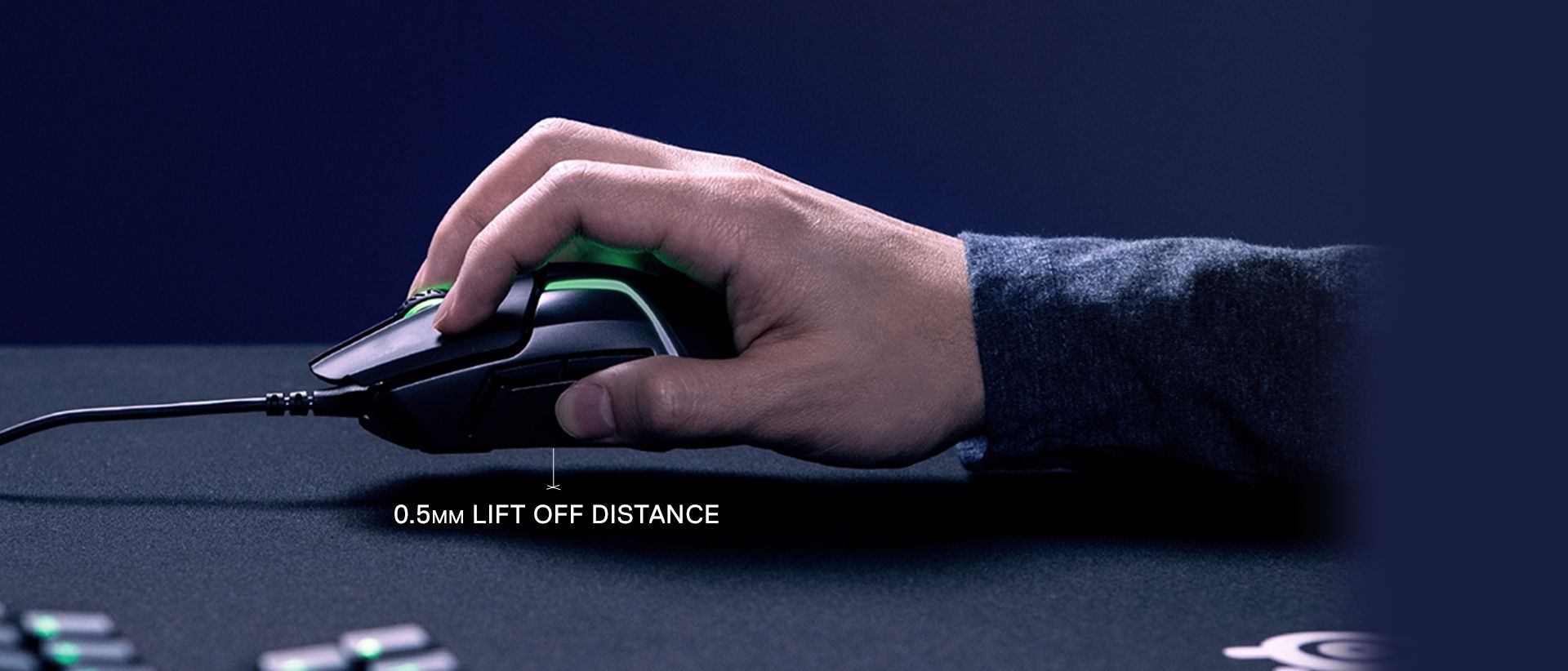 I have used this mouse model for a while, the experience is very good except that the rubber layer increases the grip for the hands-on both sides of the mouse melts when it is too hot. This is what I have encountered and currently, on the Rival 650 mouse, this situation does not appear. Perhaps SteelSeries has overcome this drawback because the Rival 650 and Rival 600 are identical except that the Rival 650 is the wireless version. The current price of Rival 600 is about $85.
SteelSeries Rival 600Best Gaming Mouse For Large HandsExclusive true move 3 12,000 cpi, 350 ips optical 1 to 1 tracking esports sensorThe world's lowest and most accurate lift off distance256 center of gravity weight tuning configurationsSplit trigger 60 million click mechanical switchesPremium magnetic wrist restRevolutionary silicone side grips for increased grip and durabilityPrice:$67.59Save: 16%See it
#5. Logitech G903 LightSpeed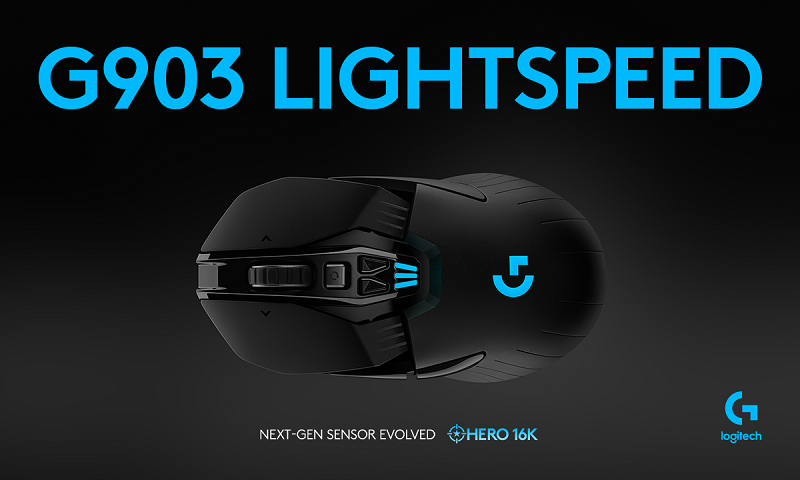 I used to use 2 Logitech G903s, one of the first generation, one of the LightSpeed ​​generation, and now when the price is only about $79, it is extremely worth buying. G903 used to be Logitech's flagship in the high-end wireless gaming mouse segment, the design is symmetrical but comfortable to hold and the 2 main mouse buttons have hinges and springs to help keep the click feeling and accuracy over time. In addition, the G903's roller also supports both smooth or step-by-step rolling modes with an open lock button since the G700/G700s era. Besides that, the 4 side keys of the mouse can be hidden if not in use, to avoid mistaken pressure when playing games.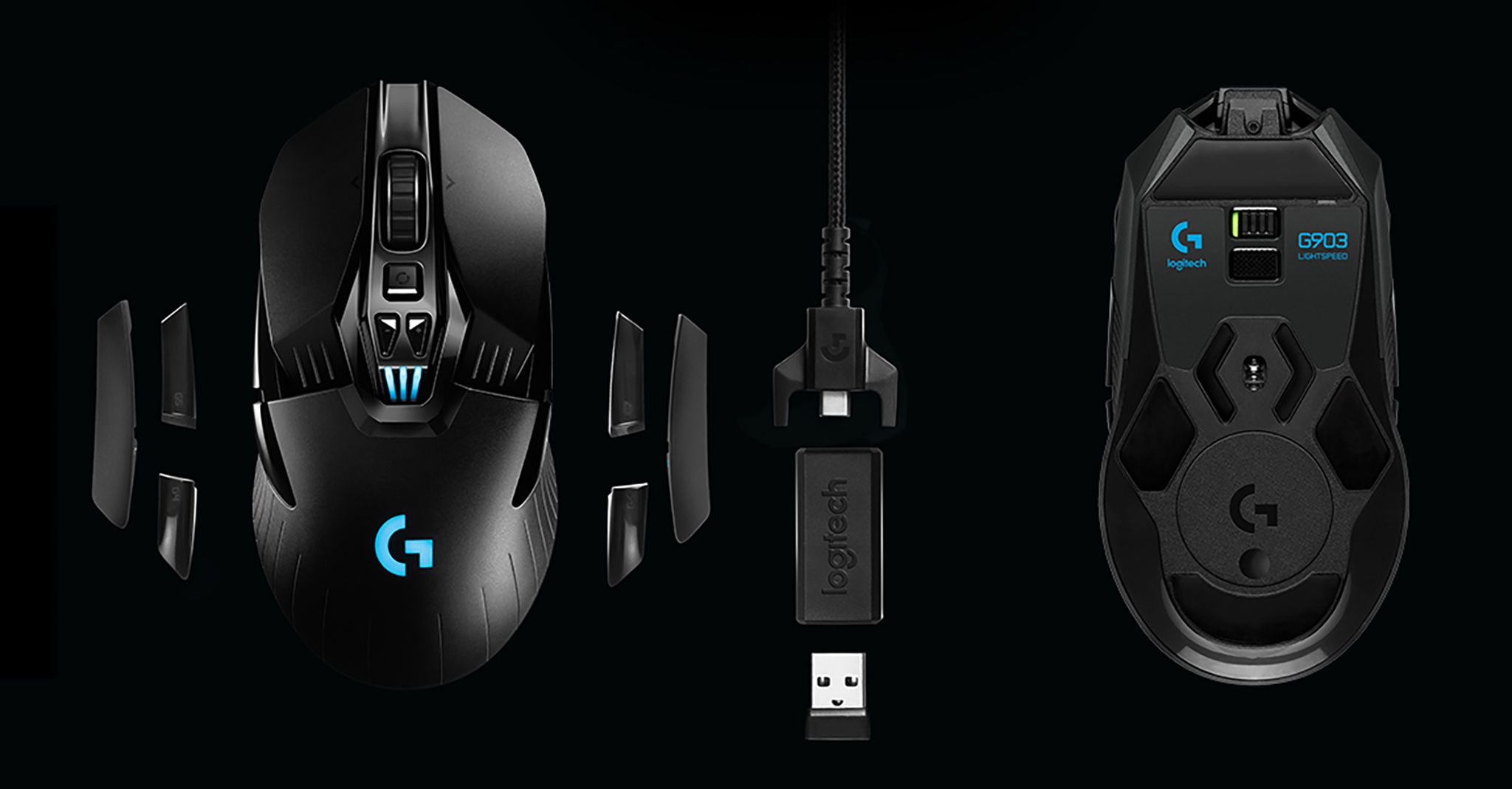 G903 LightSpeed ​​is an improved version with a Logitech Hero sensor, 25,600 DPI, 400 IPS speed. The main selling point of Logitech mice is still wireless connectivity, LightSpeed ​​technology for extreme stability, good noise cancellation, and confidence when playing games in wireless mode. The battery life of the G903 LightSpeed ​​is up to 140 hours continuously with the RGB lights on and 180 hours without the lights on. The bottom of the G903 mouse has a round cover to attach weights to the mouse or attach the wireless charging circuit on the Logitech PowerPlay pad.
Logitech G903 LightSpeedThe Best Wireless Gaming MouseWorlds NO.1 Best Selling Wireless Gaming Gear BrandPower Play Wireless ChargingHero 25K sensor through a software update from G HUBLight Speed Wireless140 Hour Lipo BatteryPrice:$79Save: 15%See it
#6. ASUS ROG Pugio II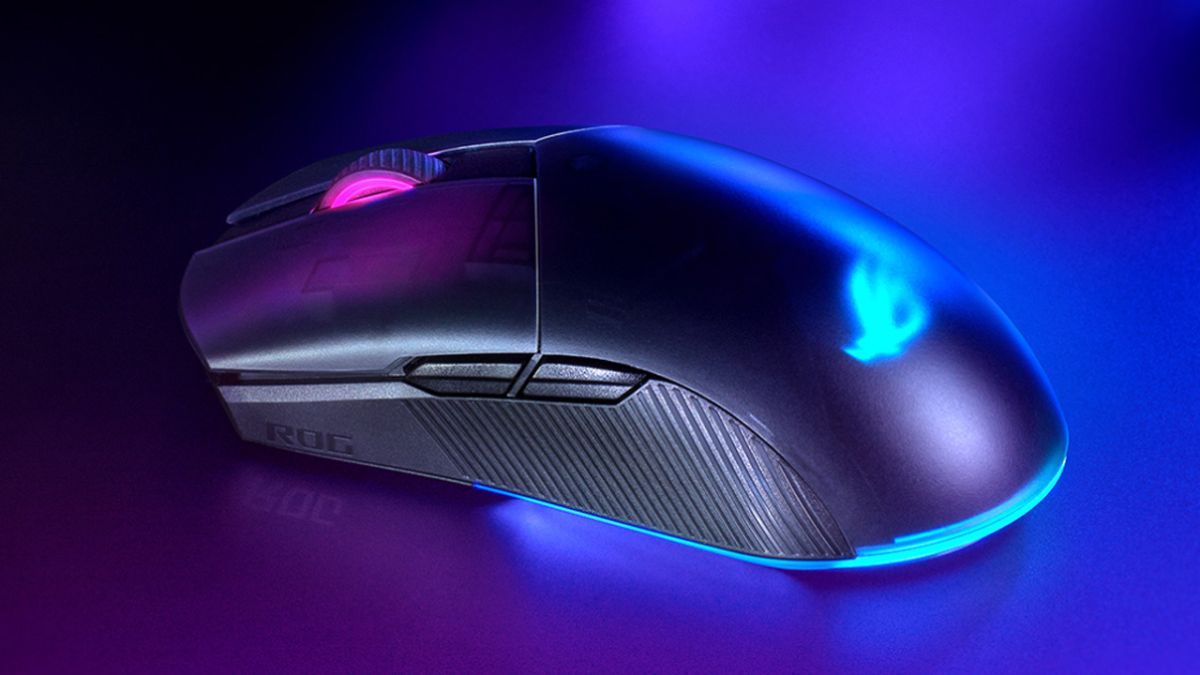 ASUS mice are usually very aggressive, but recently, I noticed that the company is starting to think about the user experience more than the looks. An example is the ROG Pugio II, which looks exactly like the Logitech G Pro because it doesn't look impressive, just has more lights.
The first Pugio series was a highly rated wired mouse, and when it came to Pugio II, ASUS cut the cord and went wireless with a 2.4 GHz connection and Bluetooth 5.0. The wireless connection of Pugio II, I had the opportunity to experience it quickly and it is much better than early technology like the ROG Spatha. Bluetooth 5.0 is also a plus to make ROG Pugio II more versatile, but what I like most about ASUS mice is the ability to change the switch.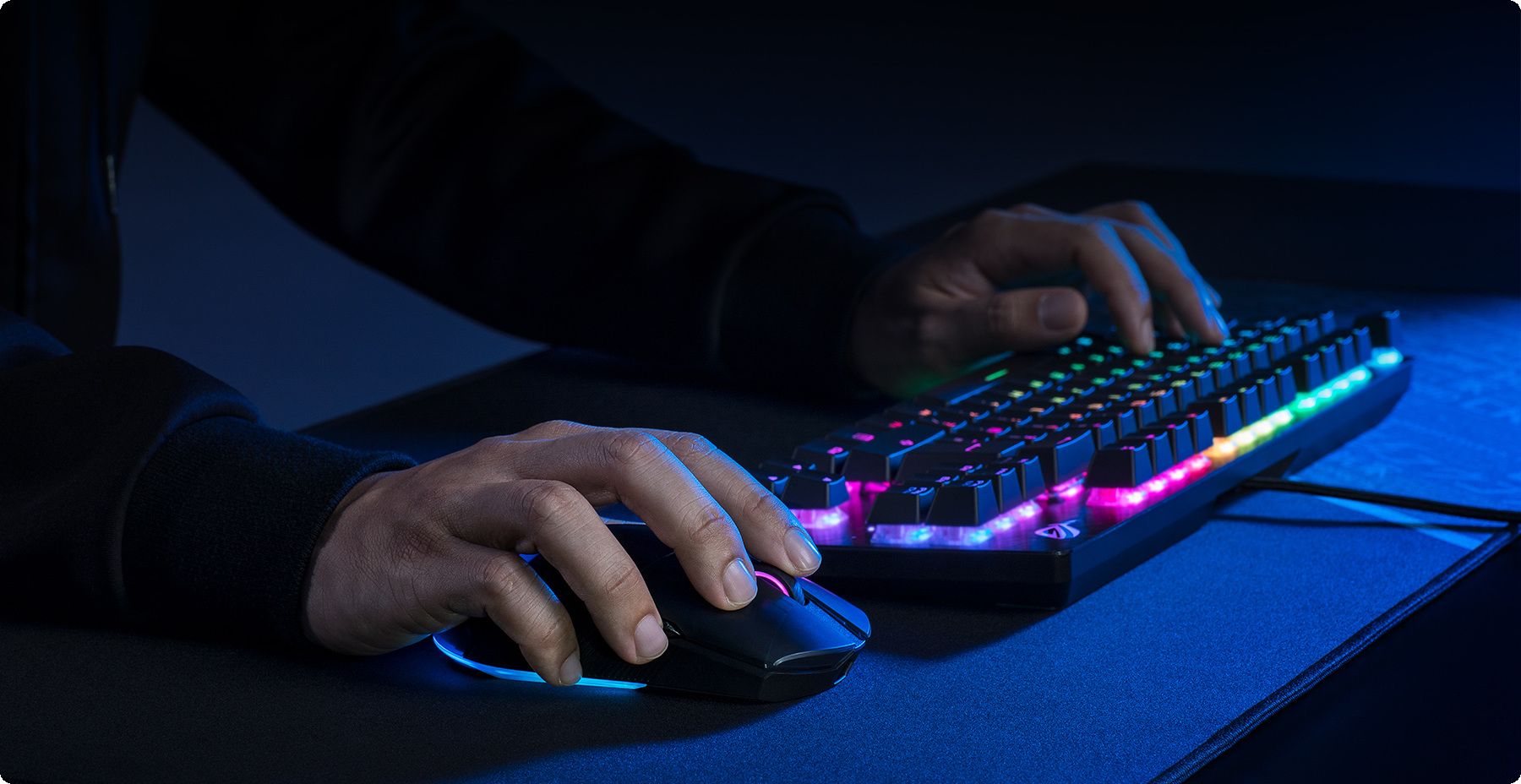 I have used Gladius II, Gladius II Wireless and always love this unique feature. If you are afraid of being double clicked for a long time, this does not exist on ASUS mice because you can easily go to shopee or Google to find a store that sells mechanical switches for mice and you can buy a new pair of switches instead. . Each mouse comes with a pair of basic switches, each with a lifespan of 50 million clicks manufactured by Omron, so you may not need to buy it. In addition, if you like the feeling of pressing differently, you can buy unique switches to try and use.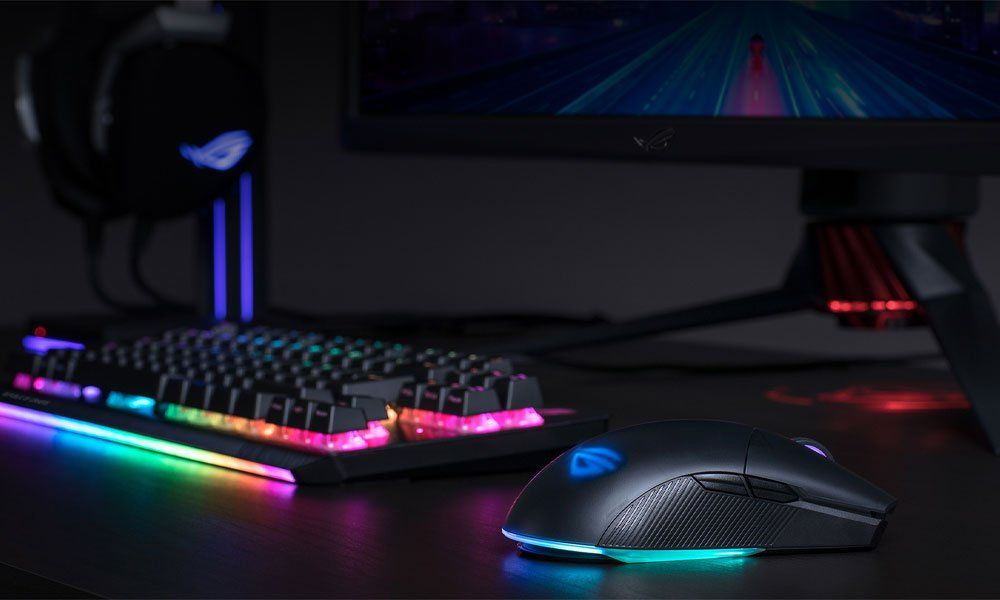 The Pugio II is equipped with the PixArt PWM3335 optical sensor, which is a variant of the famous 3360 series but with improved power consumption. This sensor is also the same type as the sensor on the Roccat Kain 200 AIMO with the more beautiful name Owl-Eye, HyperX Pulsefire Haste. The price of ROG Pugio II is about $87.
ASUS ROG Pugio IIBEST RGB MOUSE FOR ELITE GAMERSOPTICAL GAMING MOUSESMARTHOP TECHNOLOGY100HRS WIRELESS MOUSE GAMEPLAYLIGHTWEIGHT & ERGONOMICPrice:$87.2Save: 13%See it
#7. Logitech G Pro
If it's just simple, the Logitech G Pro is a wireless gaming mouse that is worth using and this is also the mouse I have used mainly for more than 1 year. This mouse can be said not to be beautiful in appearance because it is just like a gourd pebble, without any gaming elements. However, this is a mouse model designed by Logitech for professional esport gamers and its shape is also shaped by professional games.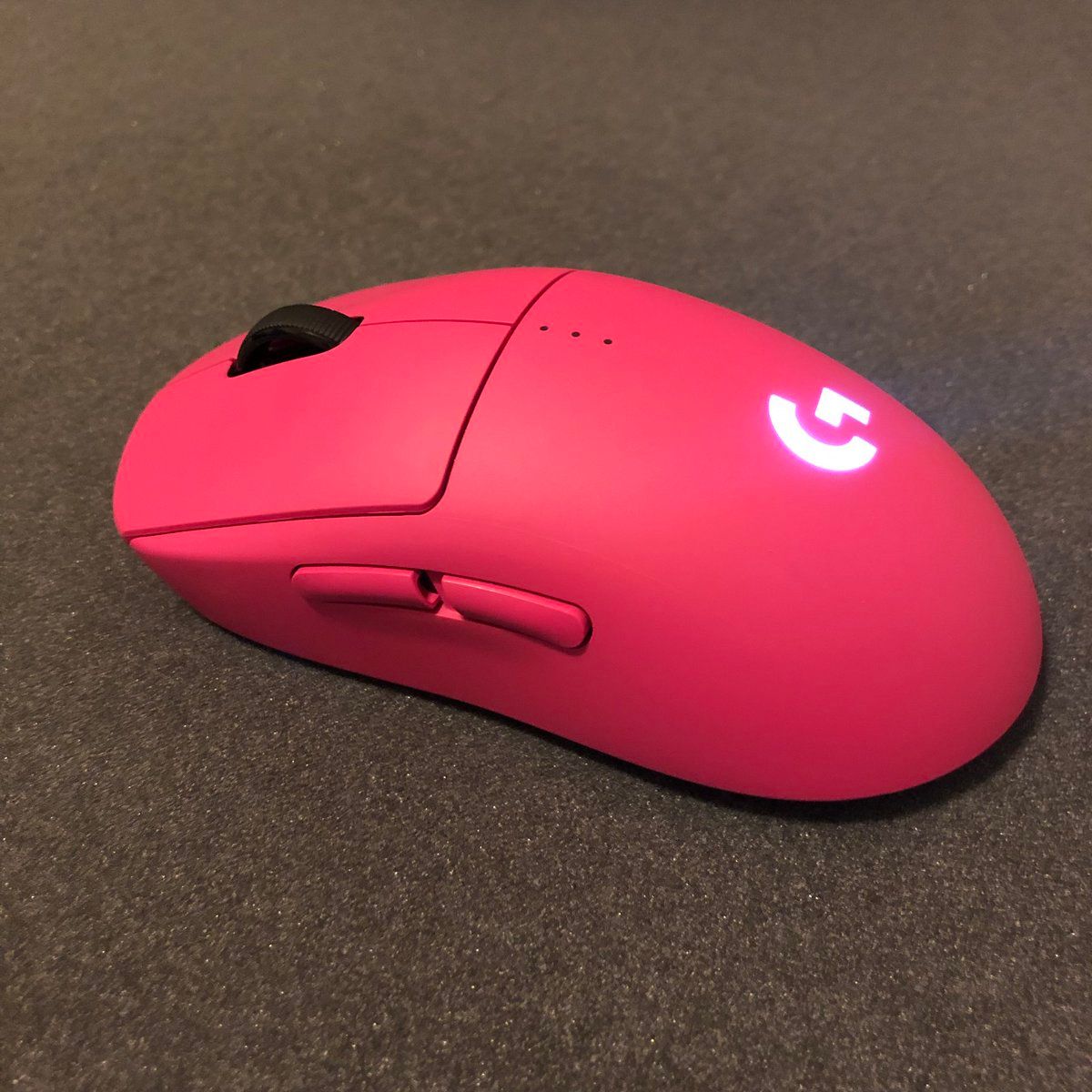 G Pro is optimized for long-term gaming needs, weighing only 80g which is very light for a wireless mouse while battery life is up to 60 hours without the light on. If you need to increase weight, the bottom of the G Pro can also be attached with weights or PowerPlay wireless charging circuit, unused hip buttons can be closed to avoid mistakenly pressing.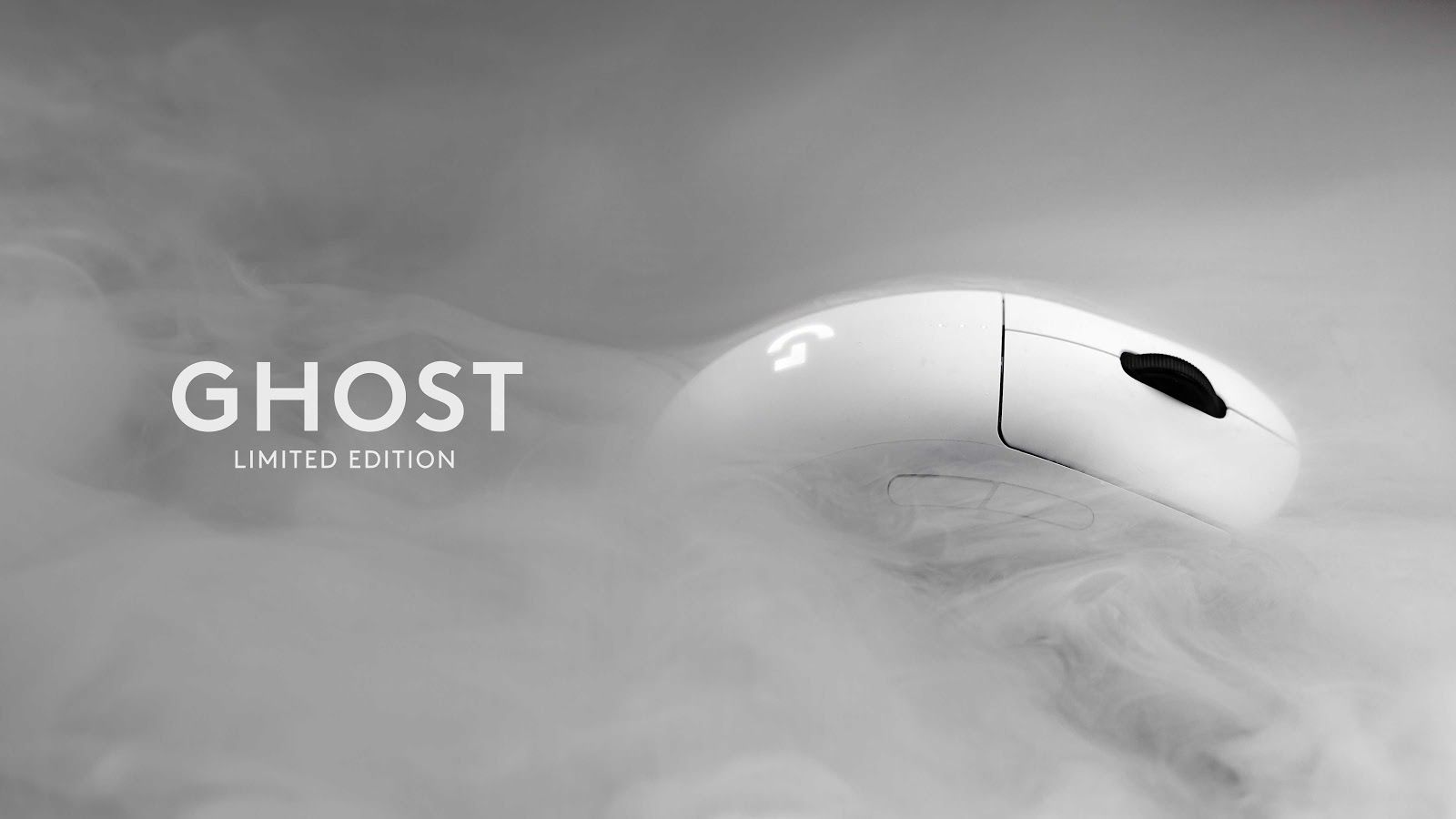 G Pro also uses the same HERO sensor as the G903 LightSpeed ​​for high accuracy, stable LightSpeed ​​wireless connection, 2 mouse keys with a spring system to maintain the feeling of pressing, double click resistance and very durable feet. So if you have serious gaming needs, the G Pro is a very suitable choice, much better than the G903 LightSpeed. The selling price of the G Pro series is about $130 million, it has a fairly rare white version priced at about $150 and a super rare limited pink version.
Logitech G ProBest Gaming Mouse For Pro GamerMade with and for Pro GamersLight-speed WirelessHero 25K sensor through a software update from G HUBUltra-lightweightErgonomic ambidextrous designPrice:$129.98Save: 0%See it
#8. Logitech G502 LightSpeed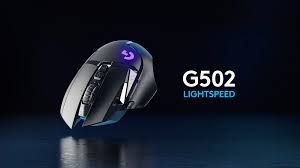 G502 LightSpeed ​​is again an icon of Logitech because the old line of wired G502 mice helped Logitech create a reputation in the gaming mouse segment. The LightSpeed ​​version is enhanced with wireless connectivity, reduced weight, and many new technologies while retaining the famous design of the G502.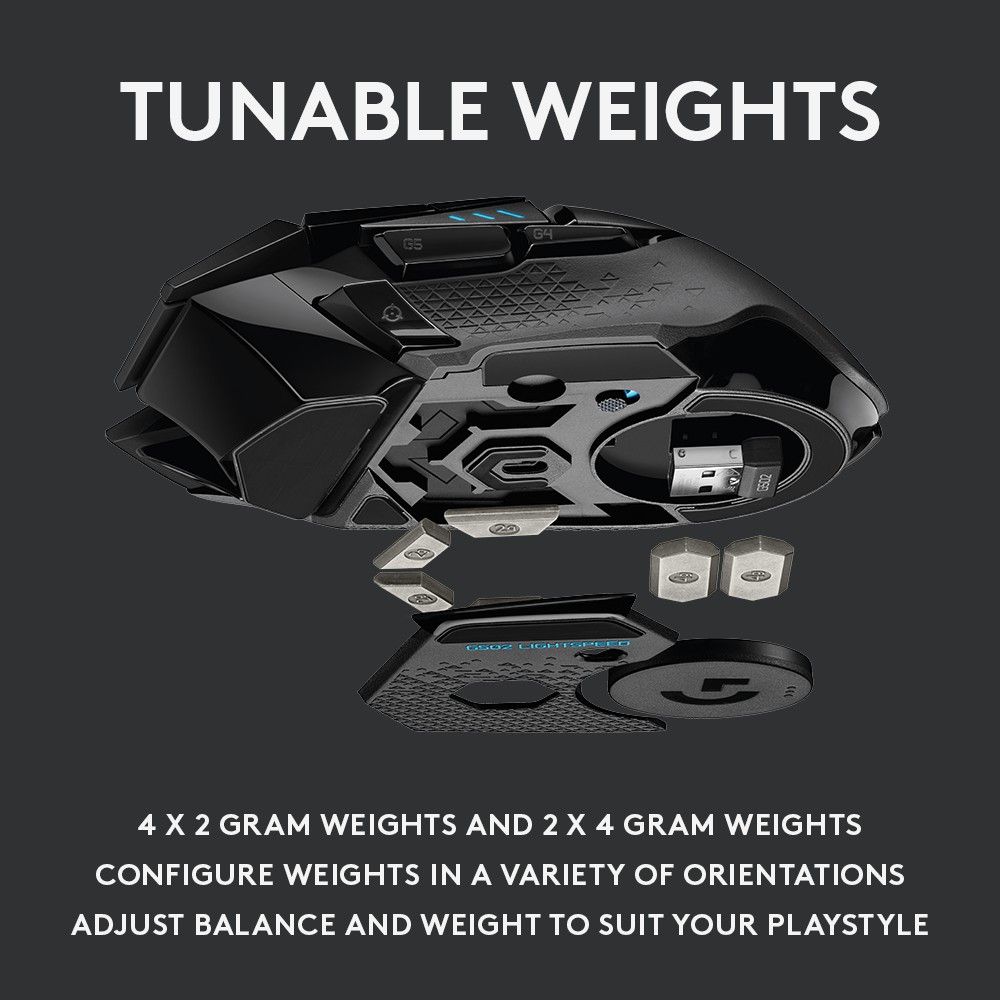 G502 LightSpeed ​​has an ergonomic form, its weight is 114 g and can be added more weights to increase it to 120 g. The position to attach the weights around the sensor, according to a symmetrical layout, you can choose the mounting position to achieve the desired balance. The bottom cover of the mouse can be replaced with a PowerPlay wireless charging circuit similar to the G903 or G Pro. The battery life of the mouse is up to 60 hours continuously if the RGB light is not turned on.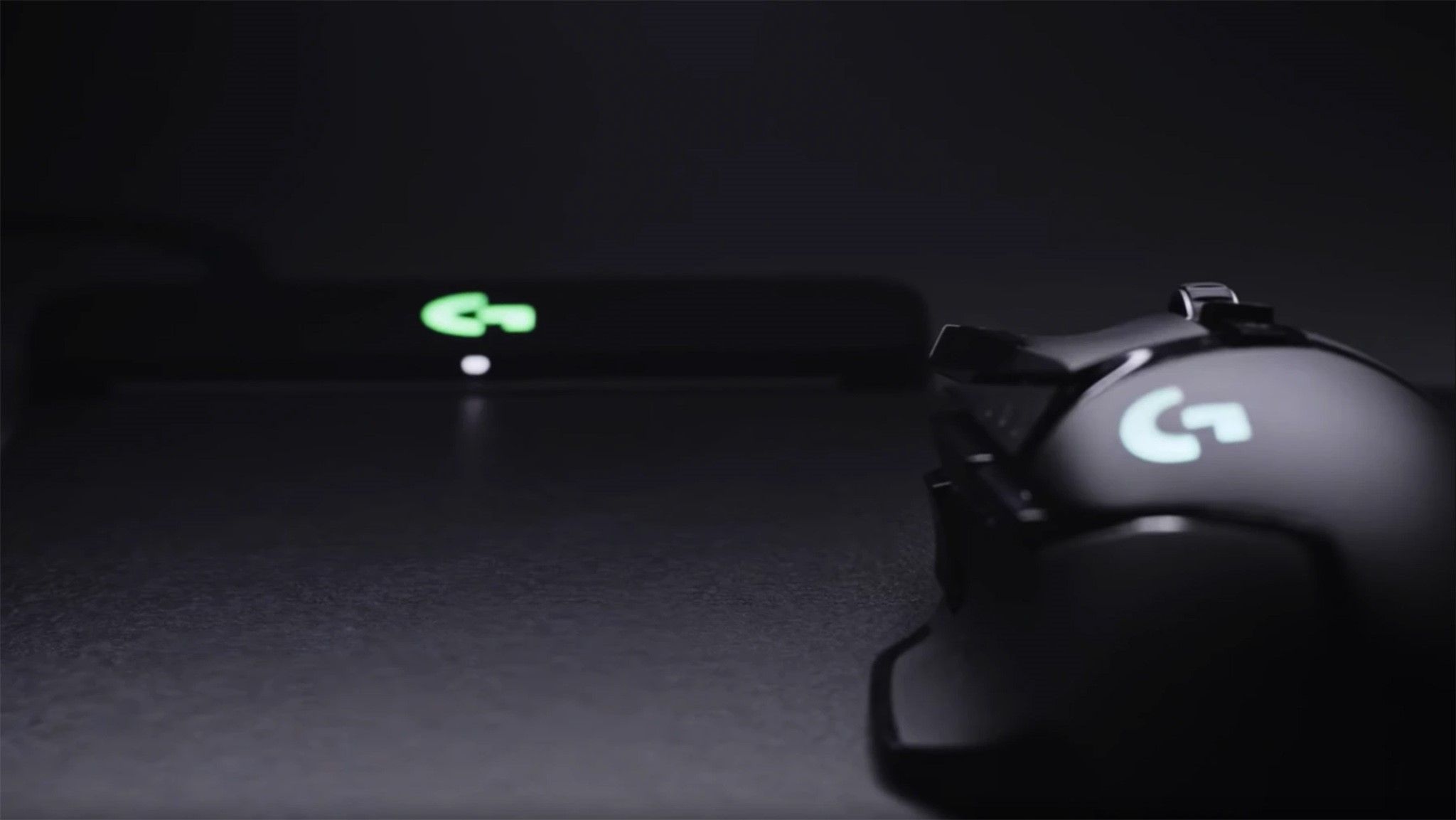 The feeling of holding the G502 LightSpeed ​​is not much different from the previous wired G502, but the mouse keys feel different thanks to the counter-force springs, with the function of returning key travel to maintain the feeling of pressing and accuracy. . The sensor equipped for G502 LightSpeed ​​is also HERO 25,600 DPI, speed 400 IPS. In addition, the foot system of the G502 LightSpeed ​​has also been redesigned, more durable and larger, no longer easy to peel off like the old wired version. The price of the G502 LightSpeed ​​series is about $89.
Logitech G502 LightSpeedBest Gaming Mouse Of LogiTechWorld's No.1 Best Selling Wireless Gaming Gear BrandPowerPlay wireless chargingLight speed wireless gaming mouseHero 25K sensor through a software update from G HUB11 customizable buttons and hyper fast scroll wheel:Adjustable weight systemLightsync RGB technologyPrice:$89Save: 0%See it
#9. Razer DeathAdder V2 Pro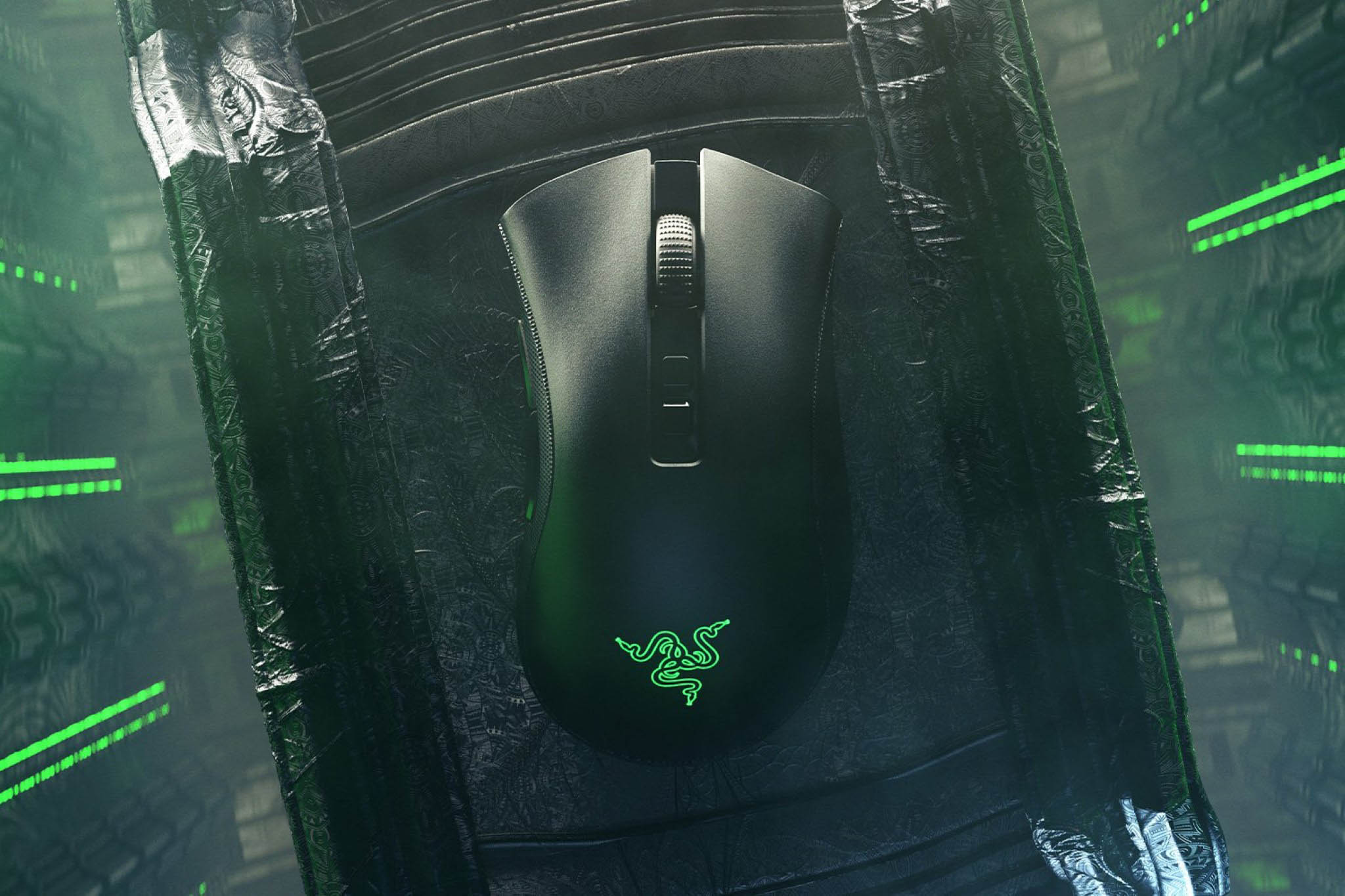 The DeathAdder V2 Pro is a very worthy competitor to the G502 LightSpeed ​​in the high-end wireless gaming mouse segment. This mouse I have also shared about the user experience here and it is also a Razer symbol that is "cut the cord". DeathAdder is Razer's oldest and most famous brand of ergonomic gaming mice. The DA V2 Pro version is also not much different in design from wired versions like the DA V2 or DA Elite, its weight at 88 g, significantly lighter than the G502 LightSpeed ​​, and only slightly heavier than the G502 LightSpeed. G Pro.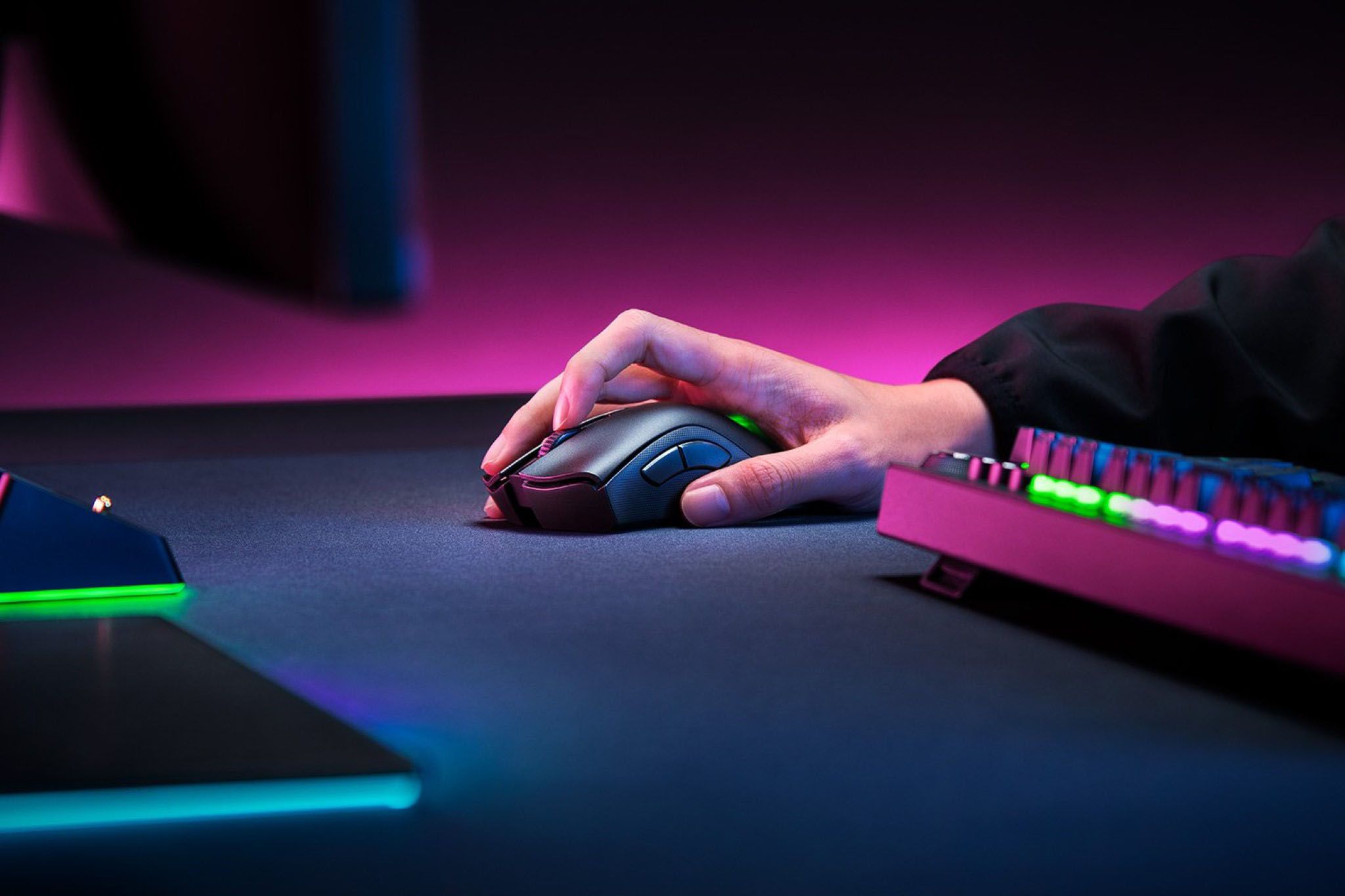 With its ergonomic design, the DA V2 Pro is suitable for palm or claw grip. Lightweight makes your hand operation light, fast and better controllability, longer playing is less tiring. In the DA V2 Pro generation, Razer equips all the best that it has for it such as Razer Optical optical switch, high-quality roller for good scrolling feeling, Razer Focus+ sensor developed in cooperation with PixArt with a DPI of 20,000 and speeds up to 650 IPS with HyperSpeed ​​wireless connectivity in tandem with Bluetooth 5.0. The included cable is also a low-friction SpeedFlex cable, for charging and as a wired mouse.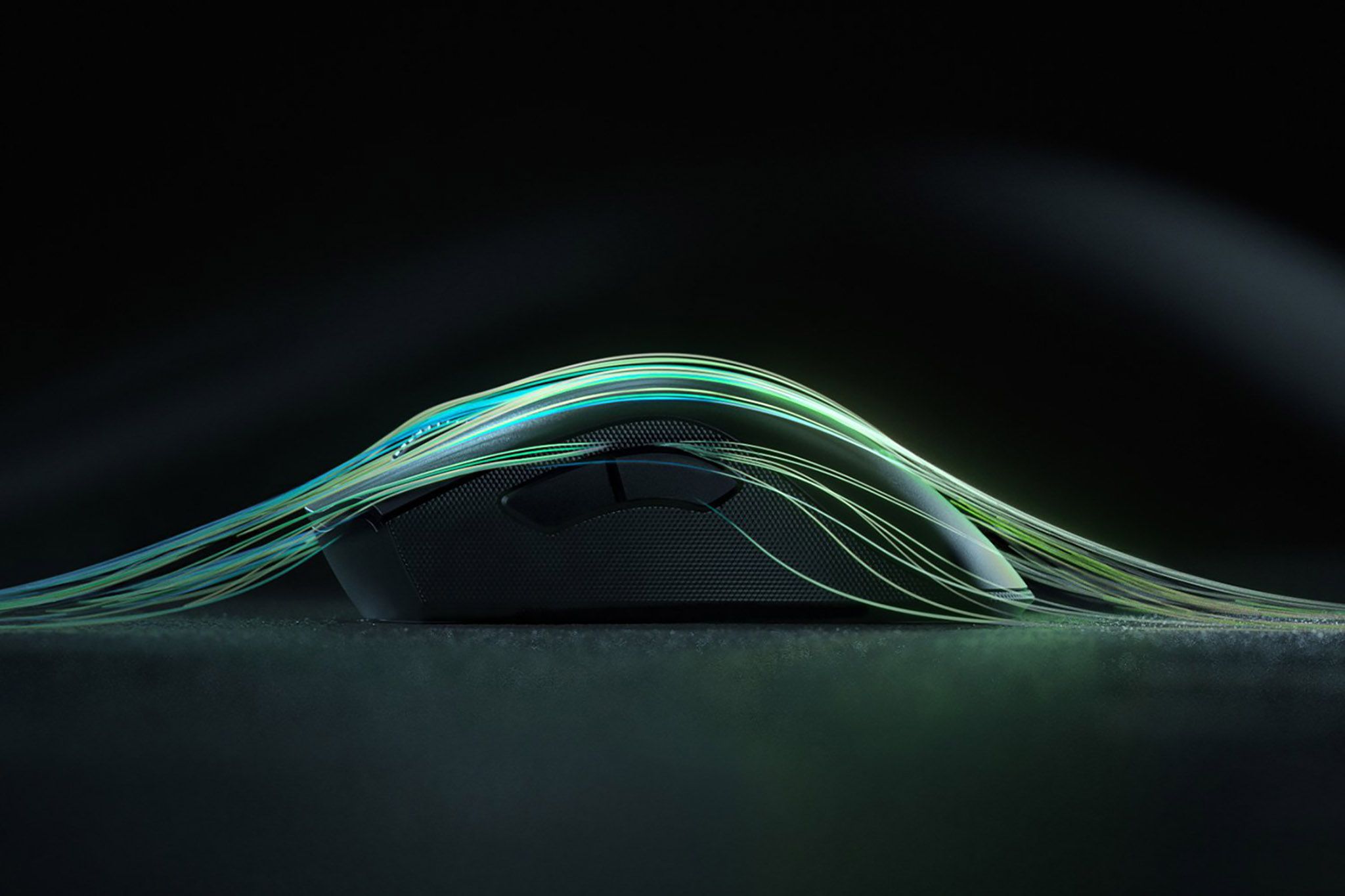 With what I've experienced with the DA V2 Pro over the past several months, Razer's HyperSpeed ​​connection quality is comparable to Logitech's LightSpeed. In addition to that, the addition of Bluetooth 5.0 brings great flexibility to the DA V2 Pro because it gives longer battery life than the 2.4 GHz connection, Razer speaks for up to 120 hours and I personally experience it. It is true that compared to previous Razer mice, it has better battery life. However, if there is anything to complain about, I only complain about the feeling of pressing the mouse keys of the DA V2 Pro. The design of the mouse back-to-back key with the same piece of plastic is still not as optimal as the cut-off key because the more you press it, the softer it becomes, no longer as clearly separate as when you first bought it.
Razer DeathAdder V2 ProFastest Wireless Gaming MouseFocus plus 20K DPI Optical Sensor25% Faster Than Competing Wireless MiceImmersive, Customizable Chroma RGB Lighting70 Hours of Intense Gaming88g Lightweight DesignPrice:$99.99Save: 23%See it
#10. Razer Basilisk Ultimate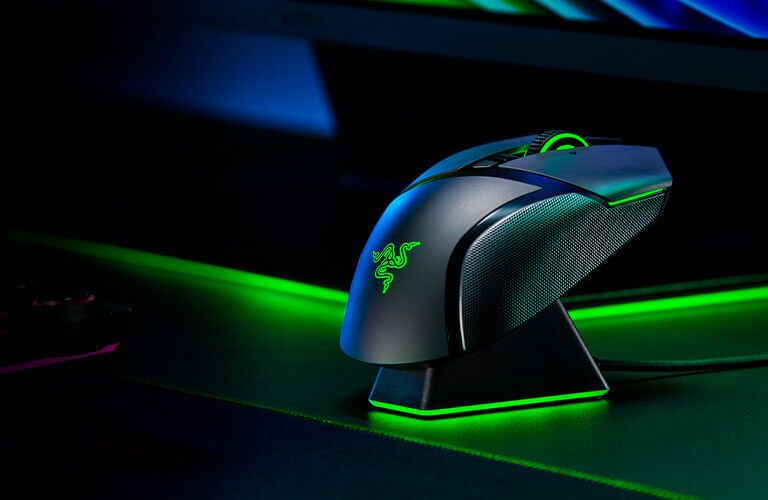 This is also the most expensive gaming mouse model on this list with a price of up to 4 million and is also Razer's flagship. Basilisk Ultimate is the most advanced version in the Basilisk line with full technology. The design of the Basilisk series can be said to be too good, but many of you will realize it has something similar to Logitech's G502 LightSpeed ​​😁.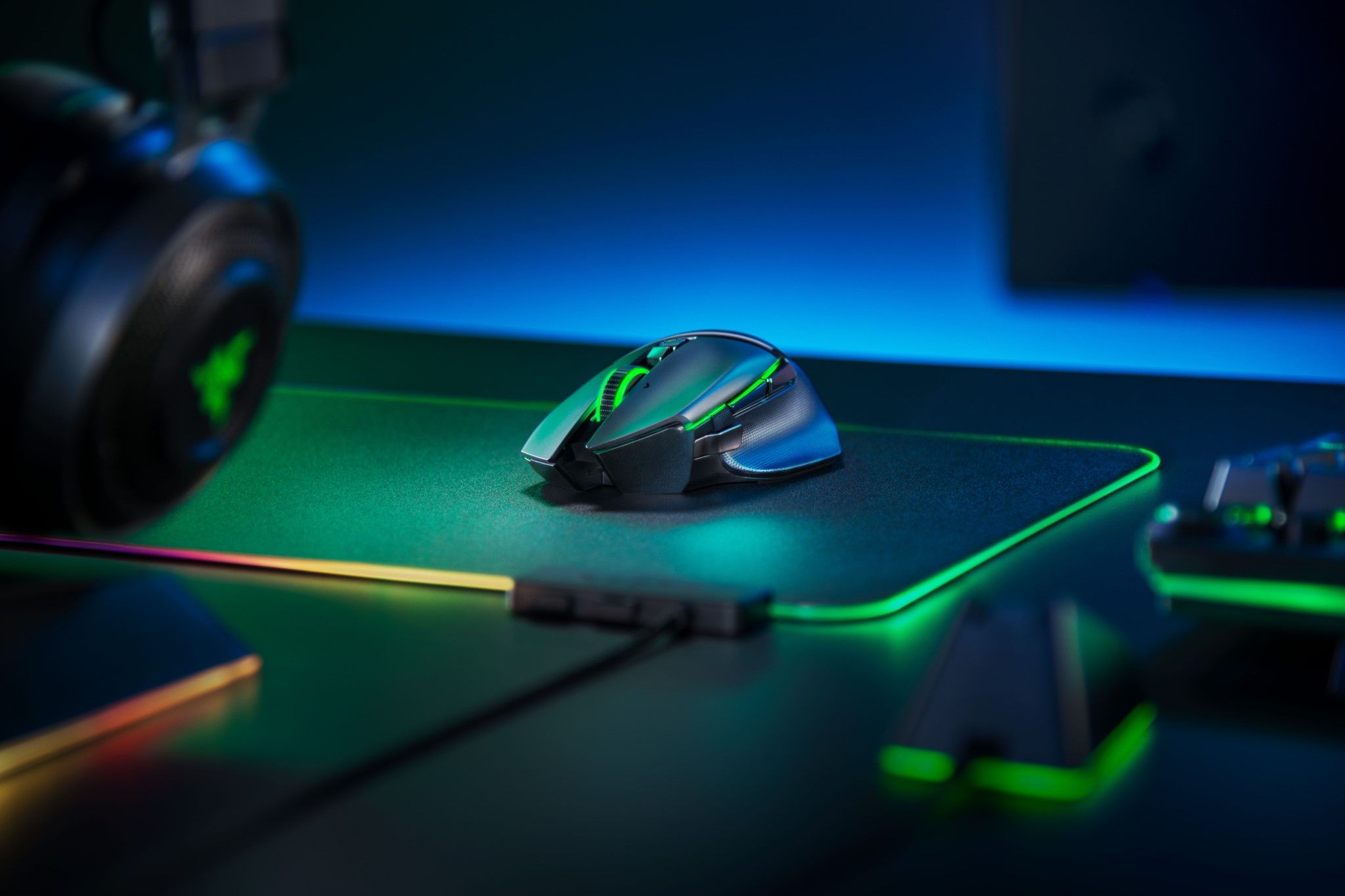 Basilisk Ultimate fits the palm grip style, the 2 main mouse keys are slightly concave with the fingertips, a smooth thumb base, and a convenient position of 2 hip keys. In addition, Basilisk Ultimate also retains the signature trigger button from the first generation of Basilisk. This trigger button is made of metal with 2 sizes short, long and short, replaceable and the main function is to temporarily reduce DPI, essential when playing FPS games with 2 or more weapons with recoil and style. different shot. In addition, the roller of Basilisk Ultimate can also adjust the friction with many levels.
The beautiful Chroma lighting system is located under the 2 mouse buttons and the Razer logo, even the charging dock has lights. Basilisk Ultimate uses the same Razer Focus+ sensor as the DA V2 Pro and Razer Optical switch.
Razer Basilisk Ultimate (included Charging Dock)Best Gaming Mouse With Charging Dock25% Faster Than Competing Wireless Mice3x Quicker Than Traditional Mechanical SwitchesIncluded Customizable Chroma Lighting & RGB Mouse Charging Dock11 Programmable ButtonsUp to 100 Hour Battery LifePrice:$132.99Save: 22%See it
How to choose the best gaming mouse for your need?
Unlike users who only need to use a computer mouse to surf the web or work, professional gamers need to own gaming mice to have the most perfect experience. So what are the criteria to help you choose the perfect gaming mouse? Check it out in the article below!
Gaming mouse size and shape
Currently on the market, handheld mouse is divided into two types: wired mouse and wireless mouse. Wired mouse is stable, has a long life and is cheaper. Wireless mouse gives players neatness but lacks stability. Therefore, before choosing to buy, you should consider carefully before choosing. Besides, you also need to pay attention to the design of the position of the buttons on the mouse. With professional gaming mice, in addition to the 2 basic left and right buttons, there will be additional buttons to support faster operation. If you are used to using keyboard shortcuts and do not need the support of extra buttons, you should choose mice with few of these buttons to avoid entanglement. You can choose a mouse with 2 main buttons and 1 button to change the pointer speed.
Depends on the game genre
For each game, the use of the mouse will be different. If the game you are experiencing is a survival and shooting game, these computer mice need to support you to click smoothly. Besides, you also need to pay attention to the comfort and stability of the mouse.
The price of the mouse
Currently, there are countless types of gaming mice on the market with many different price points. With the emerging game genres on the market today, a mouse with a price of about 500k is enough to meet the quality requirements and create the most comfortable feeling for you when playing games. However, if you cherish the desire to become a professional gamer, your assistant also needs a bit more advanced and luxurious investment.