As a Content Creator and Developer, I always have back pain. Yeah, you read it right, it's exactly that I have back pain, not a headache because of thinking about the content I have to write, or annoying bugs that I have to solve every day. It's that I have to sit at my working desk for 12-15 hours/day on a "not comfortable at all" chair. And that's the reason why I always have back and shoulder pain, every time I stretch, my bones make a very scary crackling sound.
To solve that problem, I decided to buy a Gaming Chair to replace my old office chair at home.
However, because I didn't research and only cared about having a cool Gaming Chair, and I encountered inconveniences. Having learned from my past foolishness, I decided to find out and buy a recliner in the high-end segment. Therefore, today's article was born with the reason of Reviewing the experience of sitting on a high-end Gaming Chair and the factors on a Gaming Chair that you need to pay attention to if you want to buy a good Gaming Chair.
9 Things to consider before buying a Gaming Chair
It's not okay if you just search for "Best xxx" and buy the 1st one with many fake 5-star ratings or recommended by a popular reviewer. You need to research carefully before buying, and with Gaming Chairs too, it's impossible with a weight of 100kg and you just need to purchase a $100 chair. Or your body form is European, you can't buy an Asian body form chair. Here are 7 factors you should pay attention to when buying a chair.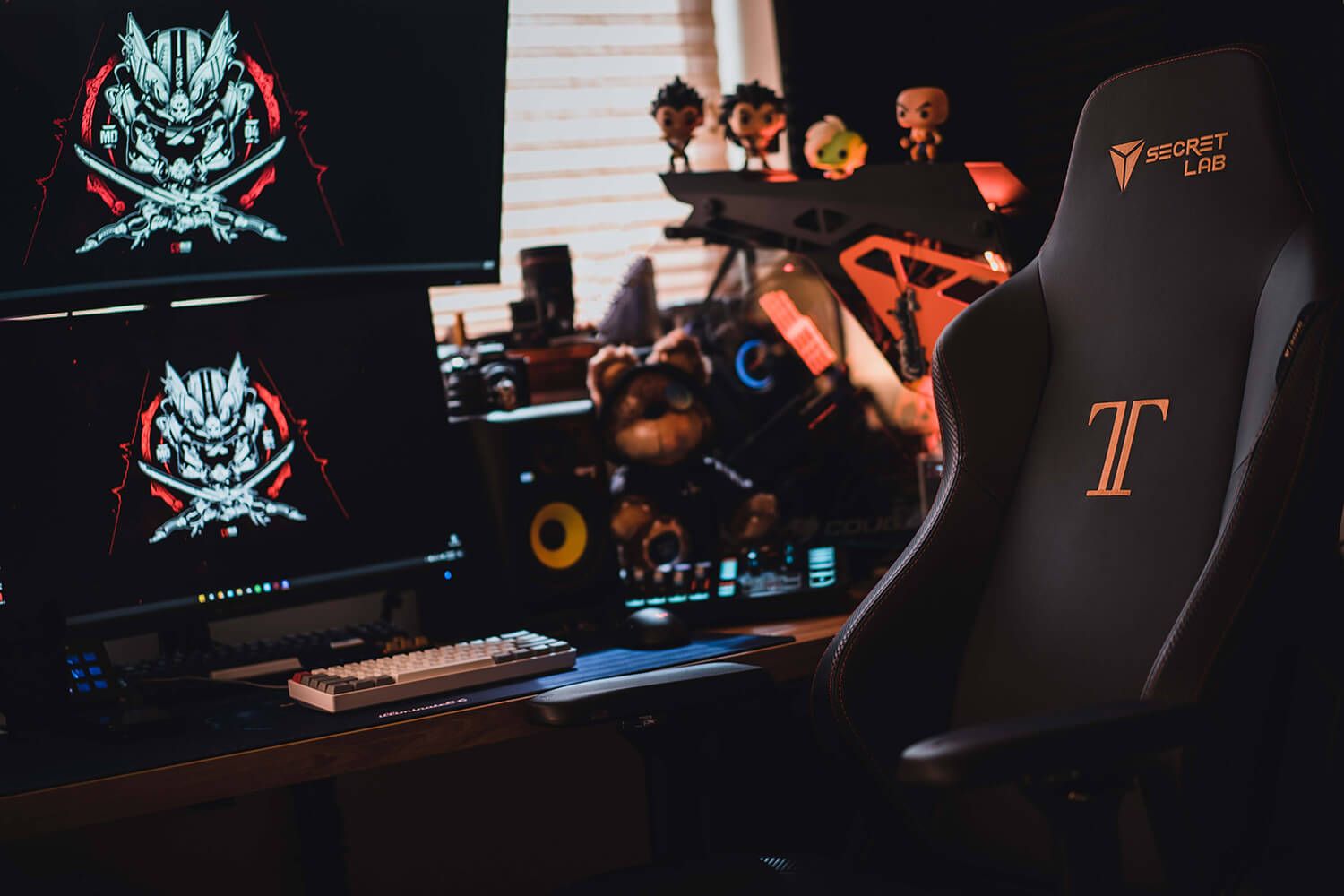 1. Is the chair suitable for your height and weight?
Gaming chairs have many different forms, if you are a girl's dream guy, 6'1 feet tall, and weigh 75kg, you can't sit on chairs with a slim form. Or you are a person who is only 5′ feet tall weighs only 45kg, the chairs with large form will be more like your bed than a chair.
Therefore, please measure your body form before buying a gaming chair.
2. How much money do you want to spend on Gaming Chair?
The price segment of Gaming Chairs is as diverse as Smartphones. You want a chair priced at $100 will have EDra chair brand, or you want a chair $150-$200 or $300-$500, even $1000 is also available for you. So plan a price range that you want to spend to buy a chair and then research about all the chair in that budget, find the right one and buy it.
3. Gaming Chair Design and Form
As I mentioned above, you need a chair with a sitting form that suits you to create a long-term comfortable feeling when playing games, working…
You also need to pay attention to the weight that the chair can withstand, for those of you with a weight below 70kg, it is quite easy to choose a chair because most Gaming Chairs nowadays usually have a load of less than 80kg. If you are over 80kg, you should choose chairs with a load of up to 100kg, you can also check my best office chair for a heavy person article to find the right one for you.
In terms of design, because it is a Gaming Chair, most companies often have bold and aggressive designs, however, there are also some quite sophisticated and luxurious chair designers that I quite like : Noble Chairs or Noble Chairs. Corsair…
Moreover, the chair companies are also very interested in female customers, thereby producing lovely pink Gaming Chairs.
4. Cover material
Currently on the market, in my opinion, there are 4 types of typical Gaming Chair upholstery materials. These are: PU Leather, PVC Leather, Genuine Leather, and Felt.
PU leather
For seats upholstered from PU leather, it is extremely popular in low-end, mid-range and even high-end seats. This is considered the most popular type of seat cover material today thanks to its high-quality imitation leather material, and the softness that is close to real leather.
Pros: The advantage of PU leather is that it is low cost and beautiful, with high aesthetics. PU leather is also easy to clean and it is also highly resilient.
Cons: Because it is an artificial synthetic material, over time, PU leather will show signs of peeling off over time. Moreover, it is also quite secretive and becomes torture if you use it in a non-air-conditioned room under 38 degrees Celsius weather.
PVC Leather
This is a type of leather produced through industrial synthesis. Usually it is often used from real leather scraps, polyester fabric scraps and covered with 1-2 layers of PVC. Then through the technology of compression under pressure and coloring, these industrial leathers are formed.
It is quite similar to PU leather but it is a bit stiffer and the pros and cons of PVC leather are the same as PU leather. However, because it is quite hard and not as soft as PU leather, it is rarely used. However, on Razer chairs like the Razer Iskur X, PVC Leather is also used.
Real Leather
This is a leather material made from 100% genuine leather that has been through cumbersome chemical processing processes… and it is quite expensive, so it is often used on more high-end and high-end models.
Pros: The Gaming Chairs are made from durable genuine leather, using an average of more than 5 years.
Cons: Because they are made from genuine leather, the price of these Gaming Chairs is often quite high. And it's as secretive as PU and PVC leather
Felt
If the top 3 types of leather are all secret, and you don't want that, then you should choose a chair with upholstered material. For example, the Corsair T3 Rush chair that the Chief of Mixi Team is using
Pros: Felt material is extremely soft and comfortable, warm in winter. It is also more breathable than the above 3 materials.
Cons: Felt is easy to absorb water, gets dirty quickly, and is not very durable.
5. Frame material
Genuine Gaming Chairs usually have a frame made of iron. However, depending on the price, the iron frame of the chair models is of good quality or not
The seat cushion frame is a clear and easy point to distinguish between high-end and popular Gaming Chairs. The seat cushion frame usually has an iron border and a wooden lining to support the upper pad, which is often located on low-cost and mid-range Gaming chairs. But with high-end chairs, it is usually made of iron and stretched, creating more comfort. when standing up and sitting down.
6. Legs and support legs
Next, you should pay attention to the foot of the chair. For high-end Gaming Chairs, the legs are usually made entirely of metal, and for the average chair, they are made of plastic. However, now most of the chairs are equipped with metal legs due to increased customer demand, as well as increased durability of the chair.
Support leg – is the bar that connects the chair and the footrest. This is the equipment that allows you to raise and lower your Gaming Chair. With medium and high-class seats, they are often equipped with hydraulic support legs, making the journey of raising the chair up and down.
Moreover, the wheel of the chair is also a factor to pay attention to because it also determines whether you will run around the room with the Gaming Chair without any problems with the wheels.
7. Armrests
Armrests are also a concept you will notice in Gaming Chairs. There are not only 3D Armrests but 2D and 4D as well
This is the type of armrest commonly found in mid-range and low-end Gaming Chairs. Because its function is quite limited when only lifting up and down and sliding the length of the armrest
If you are a person who likes many poses, 3D armrests are also an economical choice for you instead of choosing 4D. With 3D, you can raise and lower, slide the armrest length adjustment and rotate the armrest.
This is the armrest for those of you who sit with 7749 postures. Fully customizable with armrests that can be adjusted up and down, forward and backward, left and right, and rotated inward or outward.
8. Seat cushion
Seat cushions with Gaming Chairs are also available in various types such as monolithic molded cushions, normal cushions, or shredded cushions. It also depends on the price that the seat cushion is thick or not. With the chair models costing about 2 million, they are molded quite thin, so just squeeze the edge of the chair and you can touch the chair frame. There is also a molded chair with a foam cushion, the aesthetic of the chair is also bad and easier to collapse than a monolithic molded mattress.
9. Recline the chair
With Gaming Chairs, you will often use it to recline forward to rest, right? Therefore, it is necessary to choose a chair with a smooth forward-backward reclining journey.
Moreover, the pillow cushion is also quite important, helping you choose the right back selection point.
What have I experienced from a high-end Gaming Chair?
First, I will talk about my old Gaming Chair, actually, I only used it for 1 month and felt unsatisfied so I bought a new chair.
The seat cushion is quite thin because at that time I just thought it was okay to sit. But the torment came when temperate started to heat up. The chair is extremely tight and the backrest can't be adjusted up and down, I can't choose a comfortable backrest point.
Next is because the chair I bought is only 2 million more, so the 2D armrest does not help me find a comfortable armrest, along with that, standing up and sitting down creates a rickety feeling. When I recline the chair, I am also quite afraid of falling.
The feeling of sitting on another level
So I decided to correct that mistake by buying a new chair. A Noblechairs HERO Black/ Blue chair costs me $500 buck.
So what does it feel like to sit on a good chair?
1. Brand
The first is the brand, like buying Gucci, Dior, Chanel… so. Gaming chair from NobleChairs – a very famous and popular brand all over the world. Sitting on the brand chair also feels "luxurious" up. Even the packaging is very nice
2. Design
Noblechairs Gaming Chair is not just a Gaming Chair, the design of this chair is more luxurious and sophisticated. It doesn't matter where you put it.
3. The feeling of sitting
Because it's a good thing, it's good to sit. The quality is top-notch from the seat cushion, chair frame, armrests… it feels very comfortable when I sit (Of course,it's $500 buck T.T)
Bottom line
And those are my experiences and experiences after using and experiencing Gaming Chairs. How about you?