If you are an Apple smart home fan, Then the Aqara Smart Home Kit is a great choice for all your Smart Home needs as a beginner. I've introduced Philips Hue lights before, but they're more expensive and don't have as many cool features. Alright, off-topic.
What is Apple HomeKit?
Google has Google Home, Amazon has Alexa, then Apple has Apple HomeKit. HomeKit is the platform for compatible devices to connect, from where you can control every device in your home from a single app, use Siri to give voice commands, or set up automation scripts for the device to run.
And as the name suggests, Apple HomeKit was developed by Apple, so it will be optimal for those who use iPhone, iPad, MacBook, HomePod speakers, Apple TV… If you are an Android fan, you can just simply give this article a pass, there's no need to play HomeKit to complicate things. But If you really want to choose to use HomeKit, you must have one of the above iDevices.
One of the things I like about HomeKit is how easy it is to set up everything. On HomeKit devices, there is a code printed on it, put it in the app and scan it once. The device will be connected extremely conveniently. This is something that Google Home can't do (Amazon hasn't used it yet). In addition, HomeKit's ability to set up automation scenarios is also stronger than Google Home's, you can do things like
When you open the office door, it will turn on the lights in the room
Detect water leakage, alarm
Detect motion, turn on the light, then turn it off after 5 minutes
Automatically open the curtain and turn off the night light at 6:00 AM
In addition, Apple HomeKit can also be controlled with Siri, for example by voice commands to turn lights on and off or command to draw curtains.
One thing I must say is that Apple HomeKit items are more expensive than the same functionality that can only be used with ecosystem or Tuya-based items. However, Aqara products have a good finishing, and you will certainly feel like it because of the ease that Apple HomeKit brings.
How does HomeKit work?
Take a look at the diagram below: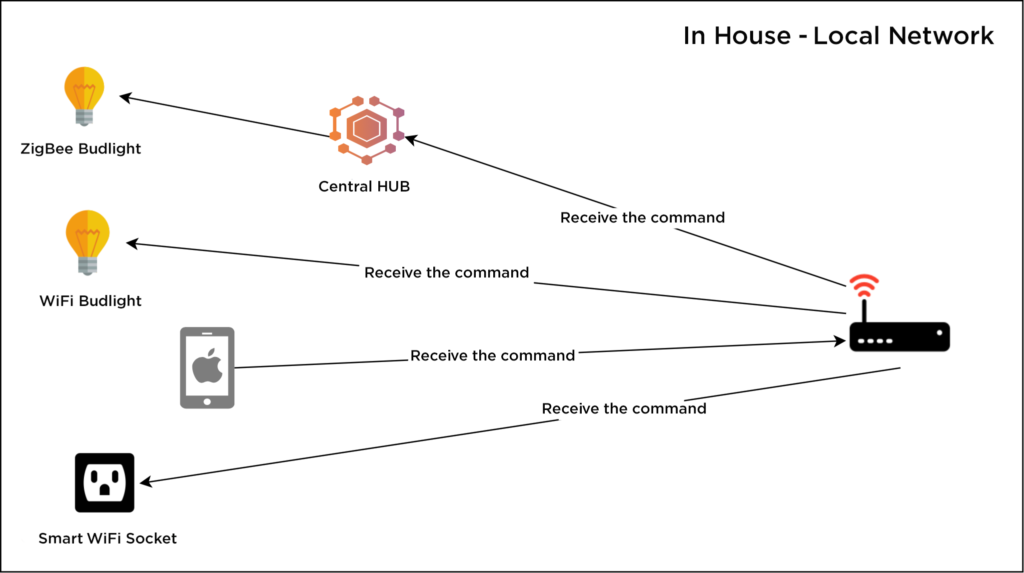 This is the biggest difference between the Apple HomeKit ecosystem compared to Google Home or Xiaomi. With Google or Xiaomi, data, when you give commands from your phone, will go to the Internet to Google servers for processing, and then be sent over the Internet to smart devices (eg light bulbs). This has 2 limitations:
If the Internet is lost, you cannot control Xiaomi or Google smart home items
Under normal circumstances, it is slower to send data to the Internet after waiting for a response than if the data is only running on the local intranet.
Of course, it would be wrong to say that Apple HomeKit does not need to use the Internet. There are functions like giving Siri voice commands that still need the Internet because your voice data must be sent back to Apple servers to analyze what the command is. In addition, if you want to control smart home devices while on the road, you also need the Internet (this is a bit more complicated, I will talk about it later).
Starter kit for Apple HomeKit Beginner: Aqara
Aqara is a brand that Xiaomi has invested in, so you can add Aqara products to use with Xiaomi products. But here I want to compile some kit that is cheap and easy to start for those who are new to smart homes but want to use Apple HomeKit items.
Note: almost all genuine Aqara products use a ZigBee connection, the connection is more stable and uses less power than Wi-Fi, but in return, you have to buy an additional hub. But believe me, ZigBee is the one you should choose, I have been using ZigBee for almost 1 year, satisfied ?

Aqara has the Aqara Hub M2 series. This is both a hub and has an infrared control function, so you can use it to control air conditioners, fans, sound systems, etc. Anything with infrared can be controlled.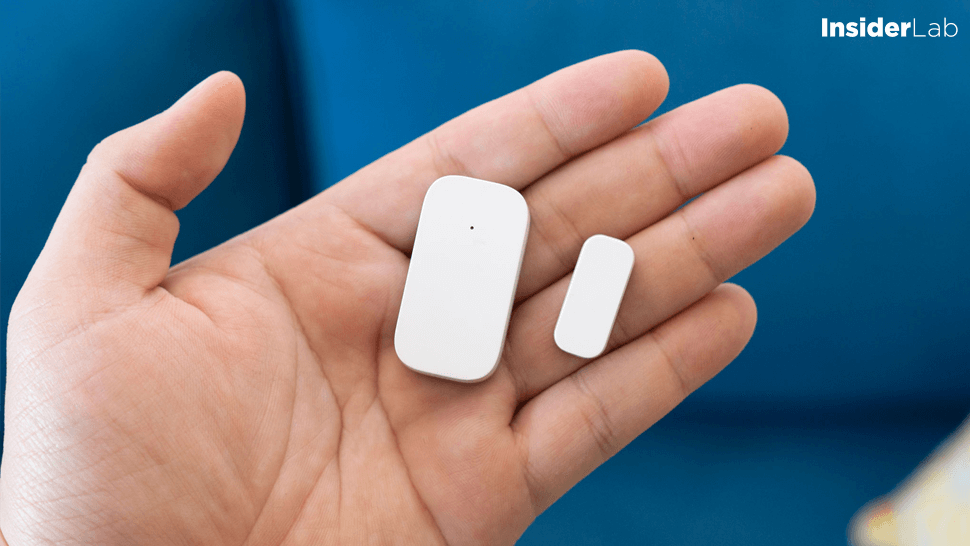 Starter Kit 1: Aqara Hub M2 + Aqara Smart Switch 2 buttons
For those who like to turn on and off the lights remotely or with a timer
In this article, I do not introduce you to using smart light bulbs, instead, you should take advantage of the light system available in the house. What you should buy is a wall switch, so you only have to change 1 thing and can control 2 or even 3 lights. There are other things like adjusting the brightness of the lights, changing the color of the lights, etc. but. I rarely use it, if you're new to the game, don't buy a smart light.
With this combo, you can turn on and off the lights remotely, timer to turn the light on and off… The Aqara Hub M2 itself is also an alarm system, it has a lot of cool features. I still need to figure it out by myself.
Starter Kit 2: Aqara Hub M2 + Aqara Smart Switch 2 buttons + Aqara Motion Sensor
For those who like to turn on the toilet light by themselves when someone is present
This is also the setup I'm using at home. When I step into the toilet, the motion sensor will detect someone moving and order the Aqara switch to turn on the light. I have not found a good solution for identifying when no one is there, then turn off the toilet light by itself, so I will not guide you to do that. Currently, I am also satisfied with turning on the light itself when I go to the toilet when it is "urgent" or you stop by to wash your hands,… it will be very convenient. One time, when I come to my parents' house, I keep waiting for the light to turn on forever but forget that I haven't installed a smart home 😀
For those of you who use a wooden floor toilet, you can buy an additional Aqara water sensor for $20, if you forget to lock the water, it will warn you.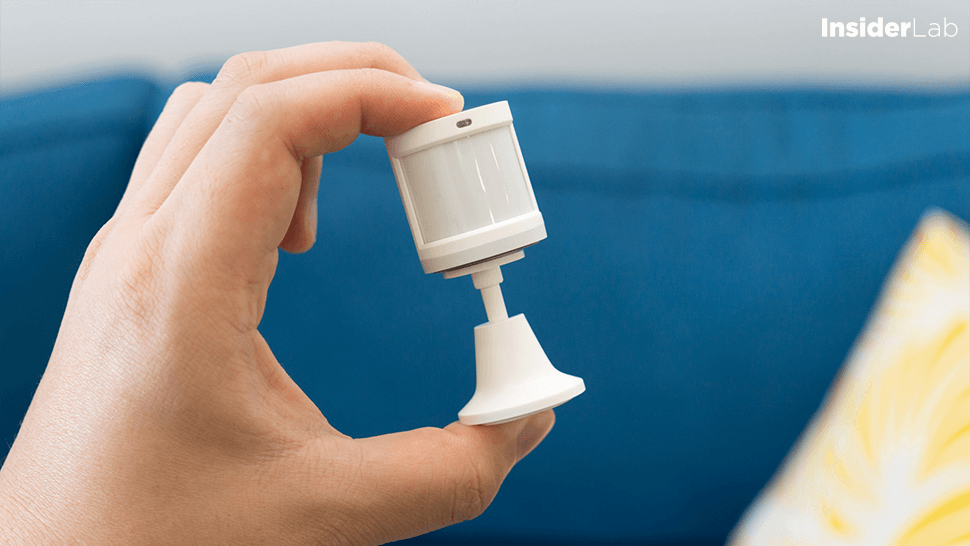 Starter Kit 3: Smart lock Aqara N100
For those who like to unlock the door with fingerprints
If you want to use it with HomeKit, buy an Aqara Hub 2 hub, but it's not required.
A smart lock is probably one of my best smart home investments, it simplifies the way I get into my home to a great extent. I have never had to use a key for almost 2 years since I got a new house. You just need to put your fingerprint in and you're done. I do not install Aqara smart locks, I use a Xiaomi OJJ X1 Chinese domestic version, but I have known this Aqara N100 for a long time, famous for its features and very good price.
For those of you who live in a new-style apartment or a high-class apartment, you should use a smart lock, because you already have a security guard outside. Instead of using the default lock, you should switch to a smart one and i Guaranteed you will like it.
This smart lock can connect directly to your phone by Bluetooth, but you rarely use it, only the first part of setting up fingerprints for people in the house. You can buy an additional Aqara hub to use it with Apple HomeKit, but in my opinion, there is no need, save that money to do something else.
Hope to help you guys.
Some references about HomeKit so that you can be well prepared for the items you are about to buy and attach to your home.
Frequently Asked Questions (FAQs)
1. Is it possible to control Apple HomeKit while out of the house?
The answer is yes, but you must have an Apple device in the house. Then the principle of operation will be like this: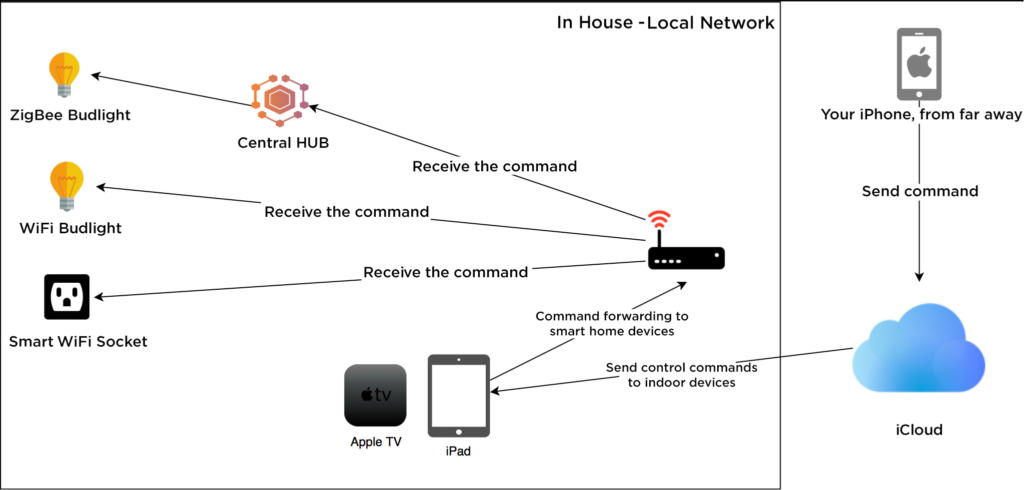 You see the indoor part is basically the same as I explained above, but the outside part must have iCloud. iCloud now becomes the intermediary that relays your commands to a "home hub" located in your home. That Home Hub could be an iPad, an Apple TV, or an Apple HomePod speaker. Recently, companies like Sony, Samsung, and LG have also launched a number of TVs that support HomeKit, which can also become "home hubs". For instructions on how to use iPad, Apple TV, and HomePod devices as hubs, please refer to this link from Apple.
In other words, if you want to control your home from the outside, you must have an additional Apple device. For example, I have 1 iPhone and 1 iPad, this is possible, but if you only have 1 iPhone, it is considered as helpless.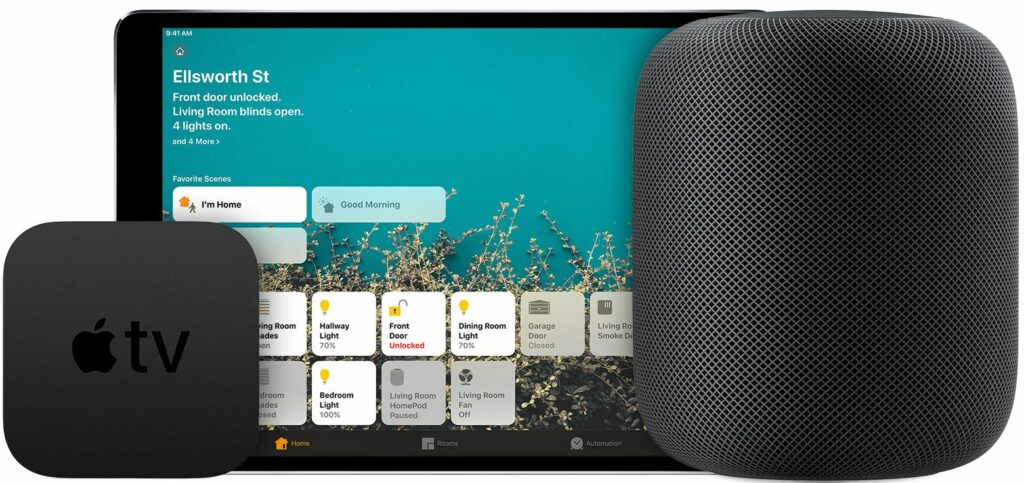 This is the limitation of controlling devices in the local network. Like Google and Xiaomi, the command is always sent to the company's server for processing, so whether you are at home or on the street, no matter whether you use Wi-Fi or 4G, you can control a smart home. As for Apple, there must be a department located in the house as an "intermediate" for the smart home to receive the order.
To recap: to get the most out of the Apple HomeKit ecosystem, you'll need to use Apple devices, with an iPhone, iPad, Apple TV, HomePod. If you are an Android Fan then HomeKit items are not for you. Unlike Google Home or Xiaomi products, they are designed to work well with both iOS and Android.
2. Does Aqara smart home starter kit work with Amazon Alexa or Google Home?
Although the items I mentioned in the article are used for Apple HomeKit, it is also compatible with both Google Home and Amazon Alexa, so those who do not use Apple can still buy it normally. Otherwise, you can control it directly with the Aqara app.
3. What are HomeKit accessories?
HomeKit is very diverse, with doorbells, security cameras, smart switches, light bulbs, LED lights, smart speakers, and even recently integrated into TVs… The format is not inferior to products that support Google Home or Amazon Alexa. But there are fewer models and not many companies involved in making HomeKit products because Apple promotes this ecosystem after Amazon and after Google for a long time.