Are you looking for a gaming laptop that can smoothly run the most hardcore games?
Call of Duty, Red Dead Redemption, Dark Souls, and even GTA, every single one of those triple-A franchises should be like "a piece of cake" for a genuine gaming laptop.
However, most of us have a subjective bias in favor of the laptop brand that we think is better than others. As a result, our buying behavior tends to be affected by such preferences.
The question is, should the selection of a gaming laptop be determined solely by our subjective favoritism? Or are there other things we should consider when buying a gaming laptop?
RELATED: Gaming Mouse Battle: Razer DeathAdder V2 vs Logitech G502
Evolution of Modern Gaming Computers
Looking back at the history of gaming computers, you'll be baffled to learn that this type of computer has come a long way to be in its position in today's booming gaming market.
Gaming laptops have been on the market since 1991. They come in all shapes and sizes but typically share standard features: a powerful processor, a large amount of RAM, and a high-end graphics card.
Dell and Its Early Bulky 10-pound XPS M170
Gaming laptops have evolved a great deal over the past 31 years. In 2004, Dell released the XPS M170, one of the first gaming laptops to feature a 17-inch screen.
This laptop had an Intel Pentium 4 processor, 1 GB of RAM, and an ATI Mobility Radeon 9700 graphics card with 128 MB of video memory. It weighed 10 pounds and cost $1,500.
Razer Blade: the Creator of Modern Gaming Laptops
Since then, gaming laptops have been getting smaller yet more powerful. Razer is considered the original creator of modern gaming laptops, with its Razer Blade released in 2011. This laptop was thinner than an iPhone and had a dual-core processor, 8 GB of RAM, and an NVIDIA GeForce GT 555M graphics card.
It's fair enough to say that the launch of the 2011 Razer Blade set a standard for modern gaming laptops to follow.
Looking Ahead: Gaming Laptops to Reach Higher Quality
The constant advancement in tech is driving gaming laptops to a higher end of functionality and configuration. Gaming laptops are also high-end computational devices due to their raw performance. Some technologies from the gaming segment also make their way to regular laptops. Some laptops in the mid-budget range now feature 16GB of RAM and faster storage due to advancements in the gaming segment.
The future of gaming laptops will make high-performance activities simpler to accomplish, and machines will be small enough for easy portability. Gaming laptops will always have a place for individuals who require mobility and power.
RELATED: Gaming Monitor: Best Ultrawide Gaming Monitor Recommends in 2023
What to Look for in a Gaming Laptop in 2023
To pick the gaming laptop that suits you best, you should be able to answer the following questions:
How much money are you willing to invest in your gaming laptop?
You can easily find good-quality gaming laptops for under $1,000. For example, the Dell G15 ($938.99; RTX 3050 4GB) and the Acer Nitro 5 ($849,99; GTX 1650 4GB) are two bargain choices that can run most of the current games.
However, if you like to stream your gaming experience online or are keen on higher gaming requirements, you'll probably need to spend a little bit more on a higher-end gaming laptop for $1,500 and above.
How do you expect your gaming laptop to perform?
Depending on your demand for your gaming experience and your choices of games, your selection may vary significantly.
If your primary gaming genre is FPS like Call of Duty, Battlefield, or PUBG, you'll need a laptop with as high a screen refreshment rate as possible. The faster the screen refreshes, the more animation frames you can see during the game, and the better you respond to gaming actions.
In contrast, if you like to rock games that take up a lot of storage space, like Red Dead Redemption 2, which "swallows" a massive 150GB, go for those equipped with at least 1TB of HDD or SSD, preferably.
Do other brands have better configurations and can directly compete with your first choice?
Many people make the same mistake by only going for their favorite laptop brand without considering other options from other, less well-known brands.
Let's look at the two gaming laptops under $1,000 from Dell and Acer mentioned above. The Dell G15, probably from a better-known brand, only has a 120-Hz screen at $938.99, whereas the candidate from Acer "boasts" a 144-Hz screen for almost $100 cheaper.
Brand, sometimes, does not really matter.
Most important of all: Is the gaming laptop upgradeable?
That said, the most crucial aspect of a gaming laptop is upgradability.
Triple-A games that demand higher performance are constantly emerging in the gaming market. For example, the Assassin's Creed II, released in 2010, only requires 8GB of free space with a 2.6GHz processor. However, roughly ten years later, the latest Assassin's Creed Valhalla demands a colossal 130GB free space with a 3.6GHz processor.
That is to say; if your gaming laptop is not upgradeable for long-term use, there's no way it can meet the requirement of the graphically demanding games that will be released within 5 or 10 years.
RELATED: Best High Refresh Rate Monitor 2023: 5 Top Picks and Buying Guide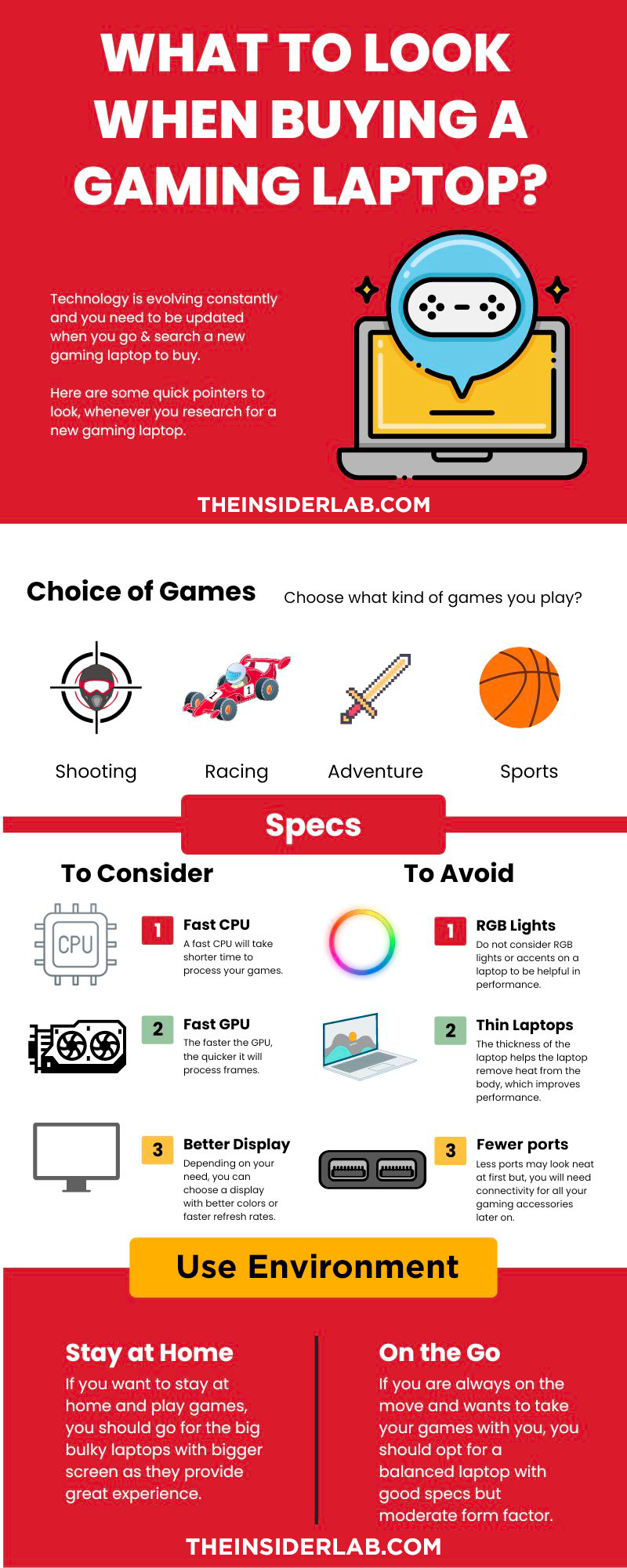 The Insider Lab's mission is to help everyone make SMARTER PURCHASING DECISIONS. Our goal is to Give You Clear Insight about Products and Brands that allows you to pick out great products that meet your specific needs.
We've built our business by referring customers to the right products and services, and we're the best at it. So are you looking for the best product on the market or what to look for when buying a new gadget? Contact us. We've got you covered!
UP NEXT: