WhatsApp is one of the fastest-growing messaging apps on the market and is almost a social network in its own right. But if you are using WhatsApp, there are many things that you should be aware of to protect your privacy and security.
In this article, I will share some useful tips to increase the security and privacy of your WhatsApp chats.
WhatsApp Security
1. Check Encryption for Sensitive Chats
Even when WhatsApp encrypts all chats by default, you still need to double-check sometimes, especially when sharing sensitive information like credit card numbers with a trusted contact.
To verify the encryption, you initiate a chat with the contact. In the chat window, tap the Contact's name and then tap Encryption. You will see code that looks like this: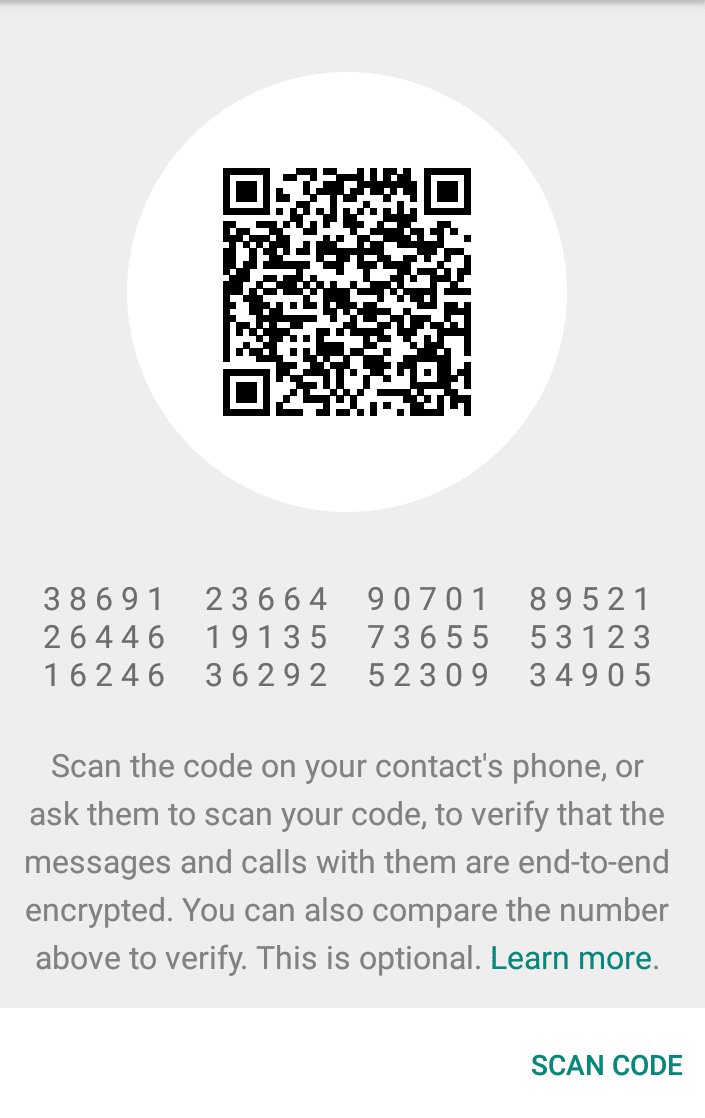 This 40-character pattern is your security code. You can confirm this code manually by comparing characters, ask your contact to scan the QR code or scan your contact code with the Scan Code button.
2. Turn on security notifications
When a new phone or computer accesses an existing conversation, a security code is generated for both devices. And WhatsApp can send a notification when the security code changes. You can check the security with your friends via another messaging app to ensure its security.
To turn on security notifications:
1. Open WhatsApp > Settings
2. And then Tap Account > Security
3. Show Security Notifications and then toggle the switch as shown above.
3. Enable two-factor authentication
If a service supports two-factor authentication, you should use it. It adds a periodic passcode to WhatsApp and also ensures the data is not accessed by someone else.
To enable two-factor security:
1. Open Whatsapp > Settings
2. And then tap Account > Two-step verification > Enable.
Follow the steps to create a 6-character PIN that you can easily remember. It's important to add an email address to retrieve that code in case you forget it.
The periodic check for the passcode is randomized, so it's not the same as your chat key password. But that is not the purpose of 2FA. The idea of this feature is to prevent others from accessing your WhatsApp account without your consent. This is truly one of the best new WhatsApp features.
4. You cannot secure WhatsApp with a password
Unfortunately, there is no way to lock WhatsApp with a password. WhatsApp has clearly communicated and advised users to use a third-party lock application on Android devices.
On iPhone, there is also no way to password protect WhatsApp. Apple doesn't allow that because it already has a passcode and Touch ID.
Therefore, a 2FA PIN is your only hope. Besides, the only way to keep WhatsApp from snooping eyes is to use a password or pattern lock on your phone.
5. Disable cloud backup
End-to-end encryption is great, but there's one flaw: WhatsApp backs up chats to Google Drive or iCloud. That way, if you reinstall the app later, you can get your old messages back. But this backup is not encrypted.
Therefore, if you are willing to care about privacy, then that is something you need to disable. Remember, storing your data with Google and Apple probably doesn't protect you against government eavesdropping.
To disable automatic cloud backup, do the following:
Open WhatsApp > Settings
And tap Chats > Chat Backup.
And then tap Auto Backup > Off.
Open WhatsApp > Menu
Tap Settings > Chat
And then tap Chat Backup > Backup to Google Drive > Never.
6. Beware of scams
Since WhatsApp is an instant messaging app, you will probably receive some recurring WhatsApp scams. You need to know some common scams and watch out for them.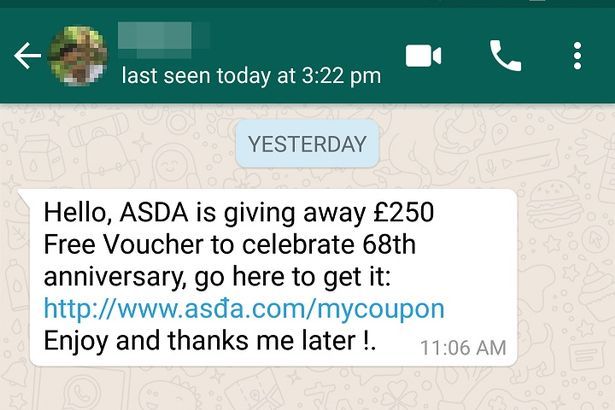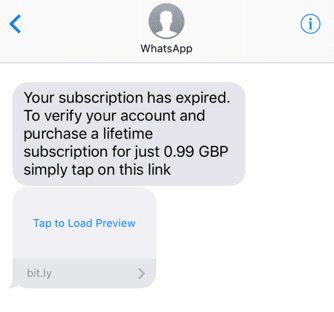 The scams most often talk about a premium version of WhatsApp, "WhatsApp Gold", or your account is about to expire, giving away free money, etc. Either way, the scam is about making you withdraw your wallet for WhatsApp. Needless to say, but never pay for WhatsApp. The company has made it clear that WhatsApp will be free forever.
7. Download and install the Official WhatsApp Desktop app
To use WhatsApp on your computer, you need to sync your phone with WhatsApp Web or the WhatsApp desktop app. To be on the safe side, go and install the official WhatsApp desktop app.
The main reason for this is that WhatsApp Web can be easily manipulated. It is also one of the biggest security threats and WhatsApp users are facing.
Protect Your Privacy on WhatsApp
WhatsApp isn't the most private messaging app out there, but it does at least give users some control. You can open Settings > Account > Privacy to see everything.
1. Turn off Last Seen in WhatsApp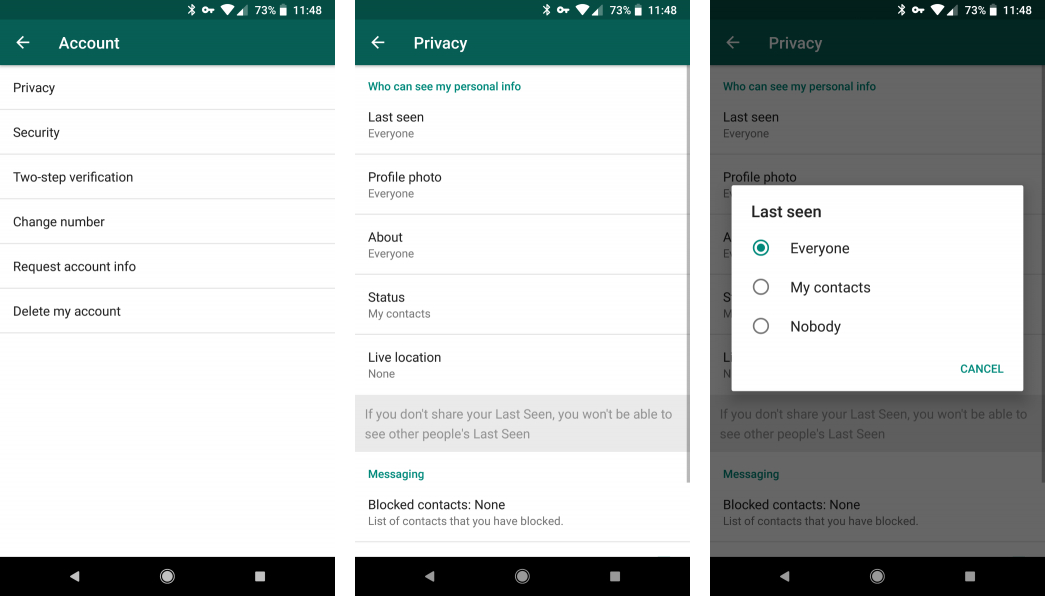 By default, WhatsApp lets your contacts know when you last opened the app. You can hide this information so people don't wonder why you didn't respond to their messages.
To do that first, open WhatsApp. On Android, tap the 3-dot Menu button in the upper right corner and select Settings. On iOS, tap Settings.
Select Account > Privacy and you'll see a Last Seenoption.
Touch and change it from Everyone to My contacts or Nobody as desired.
Once done, your last WhatsApp online session will always remain a mystery. However, you also cannot see other people's online activity.
2. Turn off Read Receipts.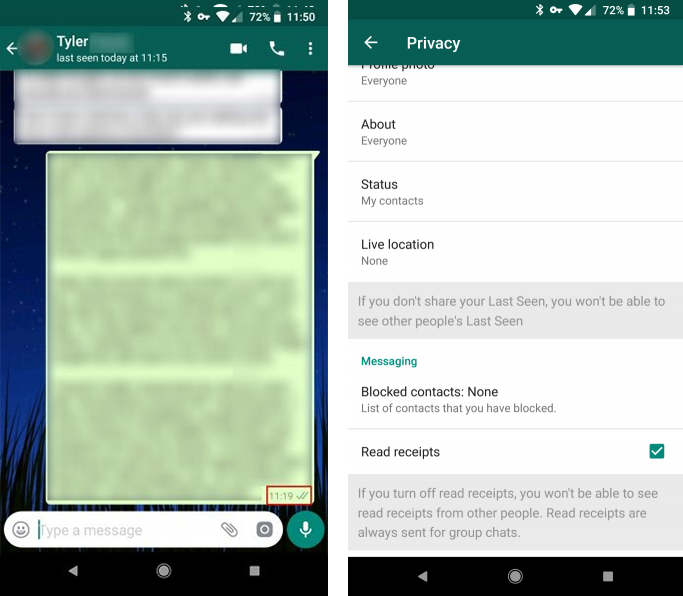 Read receipts (Read or Seen) allow the sender of the message to know if the recipient has read it or not. Two gray ticks means WhatsApp has sent the message successfully. They turn green when the other person has read the message.
They let you know someone has read the message but hasn't replied. However, you can hide this feature if you want others to not know it. To turn them off:
1. Settings > Account
2. Privacy > uncheck Read receipts. (Note, you cannot disable this feature in group chat.)
If read receipts is turned off, you won't see that message in the message. However, it is still really useful and is one of the WhatsApp settings everyone should know.
3. Hide WhatsApp profile picture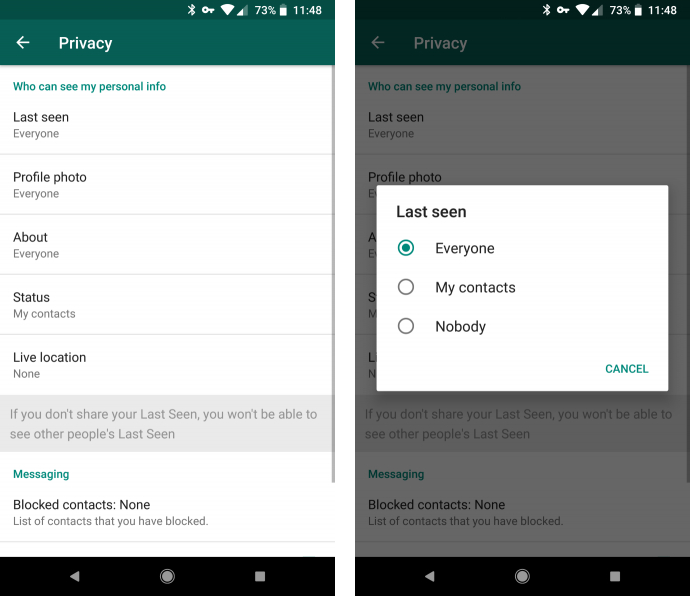 You can allow your contacts to see your profile picture when sending you messages and hide it from strangers or not show your face on WhatsApp.
To change personal image privacy:
1. Go to Settings > Account
2. And then tap Privacy > Select Profile photo
3. Then click on one of the 3 options Everyone, My contacts, Nobody.
They will now only see the default WhatsApp profile picture.
4. Exclude contact from status sharing list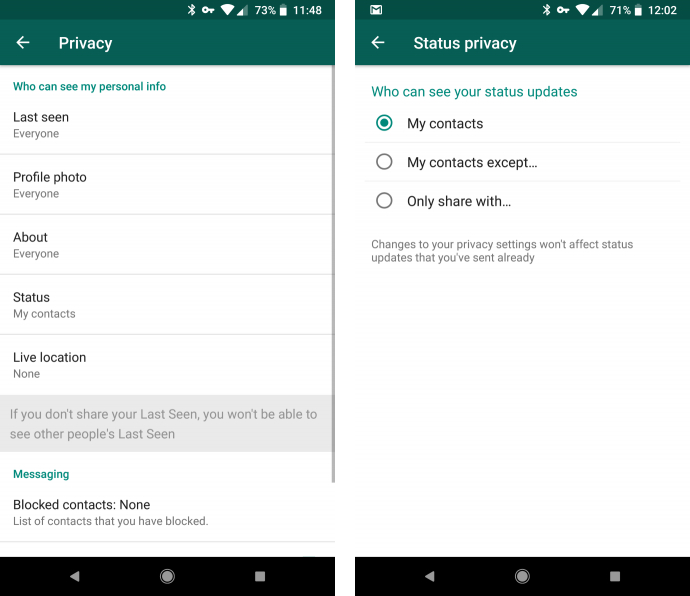 Not only the content of the message, but WhatsApp has also added a " Status Update" feature. Only those in your contacts can see your status, but you can choose exactly who has permission to see it.
Go to Settings > Account
Tap Privacy, select Status.
You have 3 options: My contacts show it to everyone you know, My contacts except allows you to block others. Select Only share with if you want to limit sharing the status to the desired people.
5. Hide About Message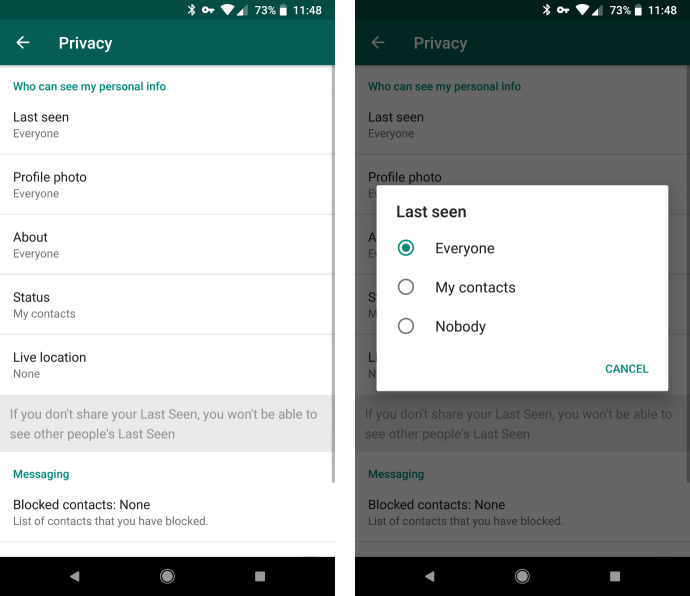 The "About" message in WhatsApp is a brief self-introduction under your name. It could be a quote or a joke rather than personal information. You can hide it from strangers or everyone if you want.
Like many other settings, you'll find it in
1. Settings > Account > Privacy.
2. Tap About
3. And choose whether you want to display About to Everyone, My contacts or Nobody.
6. Check if you are sharing your personal location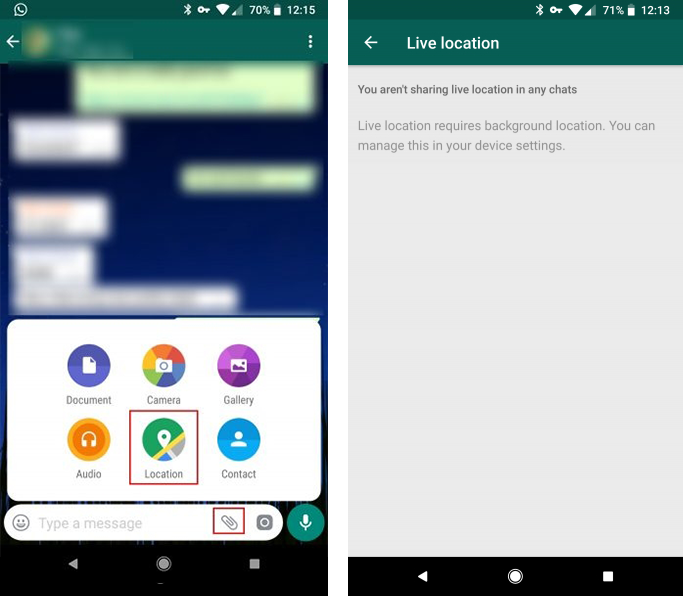 WhatsApp allows you to share your location by tapping the Attachment icon in the chatbox and clicking Location.
While this feature is useful, surely you wouldn't want to share your location with someone for months, right? Understanding that, WhatsApp offers the feature to check it. In the Privacy menu, tap Live location. You'll know if you're sharing your location with any chats and can turn it off if you want.
Remember that location information is one of those smartphone permissions you should only grant apps when absolutely necessary.
7. Use Airplane mode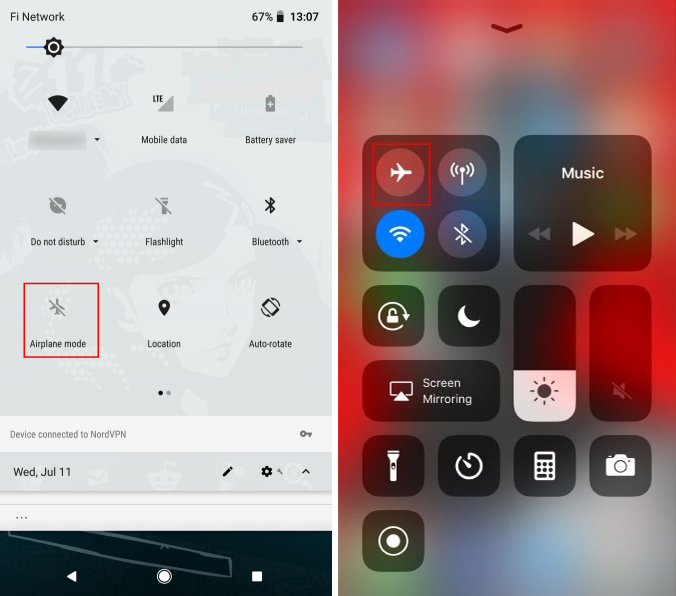 Airplane mode is really useful for a lot of different reasons. As is known, this mode will turn off all wireless communication, so the smartphone cannot connect to the internet, Bluetooth, or anything like that.
Although it is designed for use on airplanes (as the name suggests), it is a great solution to turn off all the distractions and hide ads in a great mobile game. In addition, you can use it to quickly read messages without notifying the sender of reading.
Turn on airplane mode by swiping down the Android screen with two fingers to open Quick Settings, or swiping up from below to open the Control Center on iOS. Then open WhatsApp and check the received message. Since you're offline, the last time you went online won't update and the sender won't see the word "viewed" in the message.
You will not be able to receive new messages in airplane mode.
8. Take advantage of popup notifications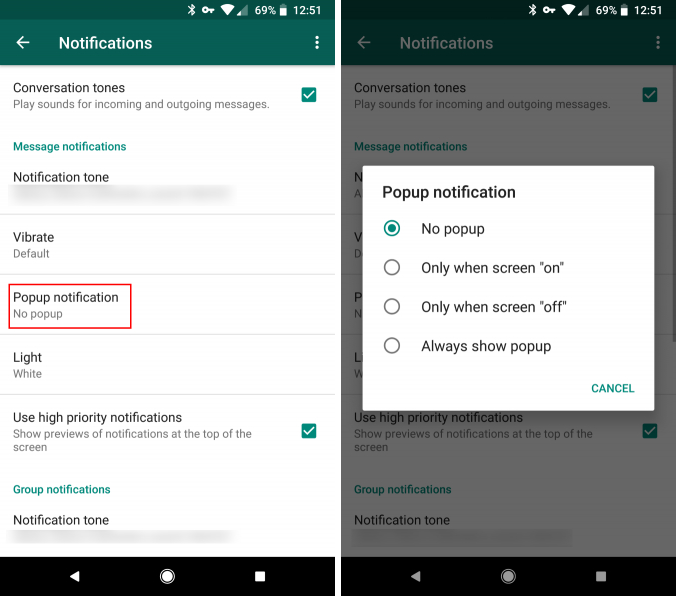 You can use WhatsApp notifications to read messages without notifying the sender of "viewed". By enabling popup notifications on Android or iOS, you can see new messages in large bubbles on the screen.
Go to Settings > Notifications.
Select Popup notification and change it to Always show popup
You can also select Only when screen on or off. Repeat this in Group notifications if desired.
On iOS: You have to change the notification style.
Go to Settings > Notifications
Select In-App Notifications
Here, change Alert Style to Alerts.
Unlike the banner that appears on top and then disappears, you need to close this notification window by yourself. Once done, a new message will appear on the screen. You can read them and close the popup without having to mark the message as read.
Bottom Line
If you don't want to share too much information on WhatsApp, don't be afraid to try the tips above. They allow you to use WhatsApp as you please without worrying about what people think.