Although it is only a beta version, Windows 11 with a lot of changes has made many users interested. Here are all the new features and upgrades on Windows 11 that you can't miss.
New Start Menu, Taskbar and Search bar
The first and most prominent feature when accessing Windows 11 is the new Start menu. Although this new menu received mixed reviews at first, it is one of the most exciting changes. Design ushers in a new era of Microsoft for Windows that has come a long way.
Instead of the layout skewed to the left as it has been since Windows 95 (except Windows 8), Microsoft has now moved the Start menu to the center (but if you like, you can switch left to the way it was).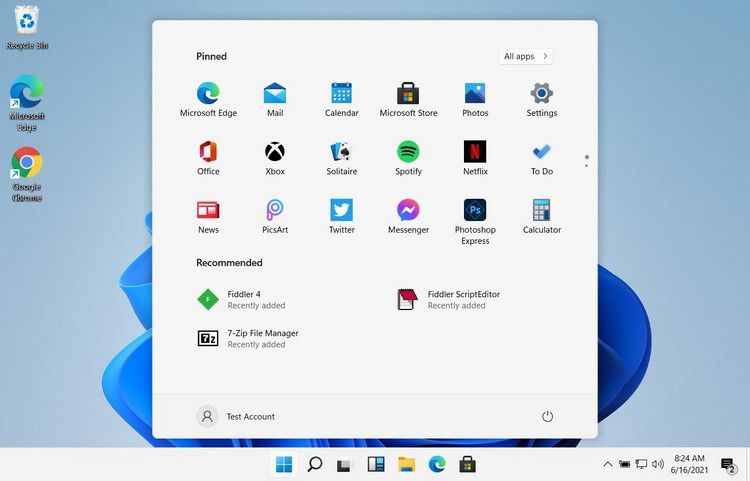 Instead of having Live Tiles and a long list of apps, Windows 11's Start menu now shows pinned apps and a list of most recently accessed files. That makes the features and documents you often use much easier to access than before.
Even the Taskbar is centered so that apps appear in the center of the screen for easier selection. Along with that is a new search icon, which displays a floating search bar, instead of a centered box like in current versions of Windows.
Again, this puts the apps and documents that matter most to you front and center – just like on MacOS or Chrome OS.
Redesigned Settings App
After launching Windows 10, Microsoft has completely revamped the Settings app for the first time. It's a feature built from the ground up, with a mobile-first design that works well with both desktops and tablets.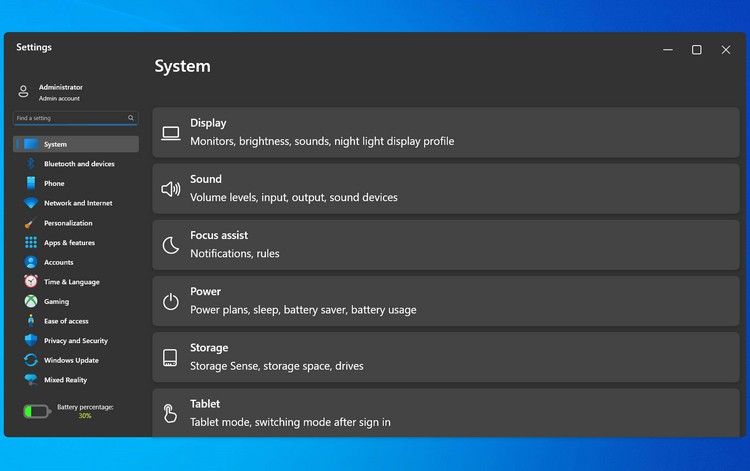 The Settings pages are neatly categorized with menus and sub-menus, along with a static window on the left. You also get paths for easy navigation as well as expandable settings for improved clarity. From the Settings app, you also get the same battery and power usage reports as a mobile phone… Overall, the redesigned Settings app's interface is quite appealing and novel.
Although in the beta version of Windows 11, the application response is a bit slow, but it is likely that on the final version this error will be fixed. Of course the Control Panel is still there if you prefer a more traditional style.
New animation
Windows 7 and Windows Vista users will surely remember the "Aero" motion animation with a glass-like effect, and you might see a fancy look when arranging your apps and programs. This feature is also available on Windows 10, but Microsoft has changed it slightly to make this animation more subtle on Windows 11.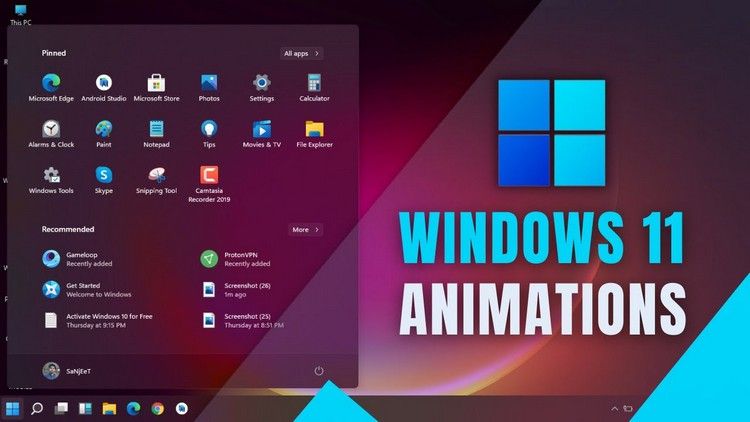 Now, there are a lot of different animations on Windows 11. When you move application windows around the screen to multitask, you'll see a glassy blur in front of the wallpaper. For touchscreen users, when tapping on top of the app windows to move, a border of the new window displays, helping you understand where it's going.
But that's not all. Open and close apps, maximize and minimize app windows, all with new animations. Existing apps when minimized move to the taskbar, and they also have the effect when reactivated when the maximize button is clicked. All bring a very new experience and very different from the old Windows.
Multitasking
One of the most popular features people use on Windows is Split View, the split-screen feature for multitasking. On Windows 11, Microsoft continues to upgrade this feature to a new level with the "Group" feature.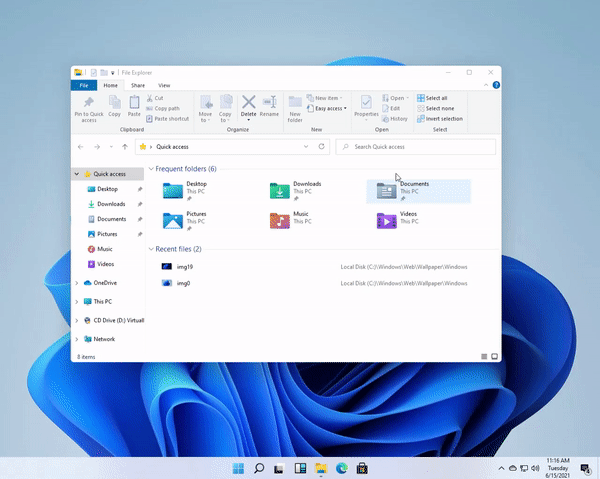 Accordingly, if you hover over the maximize button, you will see six ways that you can pair the active windows with all other open application windows. You can then choose any option to create a group and Windows 11 will remember the combination.
In fact, this feature is part of the PowerToys Fancy Zones utility for Windows 10. This is software made by Microsoft that allows you to tile application windows in a custom layout. Looks like Microsoft has finally included that software in Windows without any additional downloads and installations.
New sounds
When Windows 10 was introduced in 2015, the sound didn't change much. So users have difficulty with similar audio feedback for common tasks such as connecting USB drives, error messages, notifications, etc.
Windows 11 has finally changed things up with a new sound collection. The new sound will have many different options used for many different jobs, giving it a fresh feel, making it easier to distinguish between tasks than before.
Auto HDR and Dynamic Refresh Rate
With Windows 11, Microsoft has supported the Auto HDR feature to enhance the viewing experience when playing games, of course these titles will be games that support DirectX 11 or DirectX 12 SDR. This is definitely a highly anticipated feature for the large gaming community on Windows.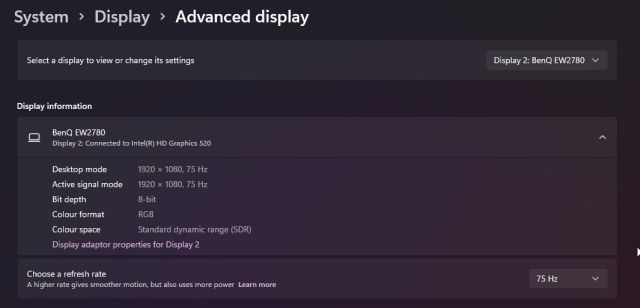 In addition, Windows 11 also has a Dynamic Refresh Rate feature, with this feature, users can adjust the refresh rate of the screen in accordance with the application used, to provide a smooth experience when interacting with the system. operating, while helping to save battery when needed.
Improved touch controls
One big problem with Windows 10 is the way it handles touch. Compared to Chrome OS, iPad OS and other operating systems, it lags behind because the interface is not really optimized for touch operations. But Windows 11 brings some much-needed changes by getting rid of the tablet mode entirely in favor of some smaller tweaks.
Windows 11 makes touchscreen manipulation easier than ever, and when you tap a window with your finger, you'll see a larger avatar to make sure you've made the right choice. That makes it easier to use Windows if you have a tablet.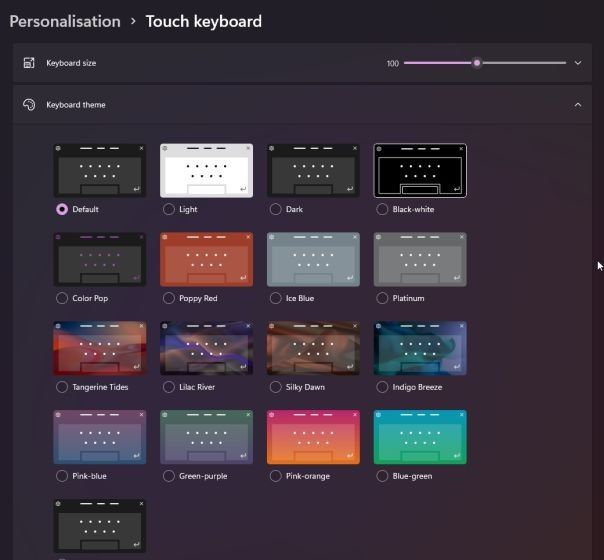 To enhance the experience for touchscreen users, the new touch keyboard on Windows 11 has some major improvements. This includes support for themes, backgrounds, the ability to customize text size, input behavior, support for inserting GIFs, and more. as well as better audio response when you touch the keys.
Microsoft even thought of accessory users like the Surface Pen when it laid out a new menu in the Windows Ink Workspace app where you could customize your apps. Now you can naturally add your own applications to the Windows Ink Workspace without having to go to the Start menu every time you want to switch to using a pen.
Direct Storage
Along with Auto HDR and Dynamic Refresh Rate above, Direct Storage continues to be another optimization feature for gamers. In fact, this is a feature of the Xbox Series S / X now equipped by Microsoft for Windows 11.
Accordingly, Direct Storage will take advantage of the latest storage hardware, here will be high-speed NVMe SSDs, to shorten game loading times as well as create in-game scenes. Direct Storage-enabled games load content directly off the GPU and SSD, reducing CPU usage and dramatically improving system performance.
Round corners
All app windows on Windows 10 have perpendicular edges, but that changed on Windows 11. In keeping with a new design language that Microsoft calls Fluent Design, Windows 11 swapped the corners. sharp to rounded corners. This is one of the most noticeable changes on the operating system upgrade.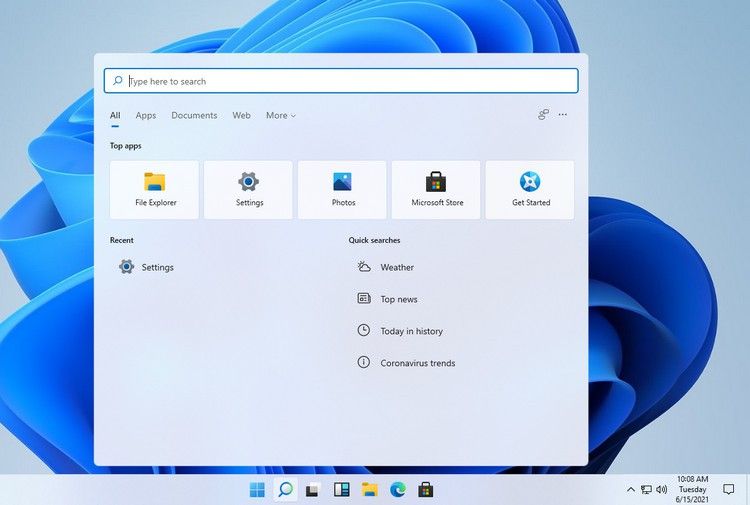 The edges of Windows and apps now look like what Apple did on MacOS Big Sur. That feels a lot fresher and more synchronized when paired with the right wallpaper, and is a big change after 5 years of users getting used to square corners on Windows 10.
Microsoft Store
The new Microsoft Store continues to be another very interesting new feature of Windows 11. This application now supports many platforms such as Win32, .NET, UWP, Xamarin, Electron, React Native, Java and even apps web-based application. From the Microsoft Store you also find themes and extensions for Microsoft Edge.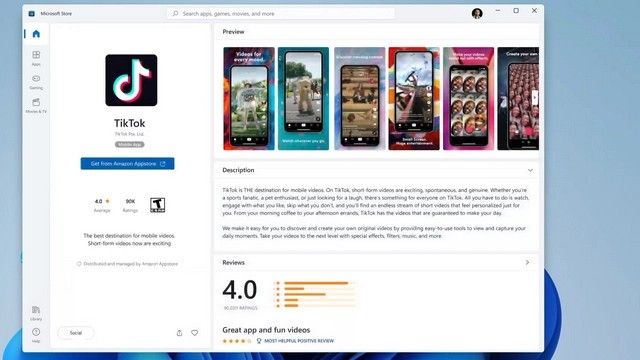 In fact, not many Windows users, even on Windows 10, really love the Microsoft Store because the experience is slow and the application store is not really diverse. But with Windows 11, the new Microsoft Store is expected to change users' views.
Action Center
On Windows 11, you'll find the Action Center is inspired by the design language we've seen on the mobile operating system, with rounded corners and larger slider buttons, which helps pressing buttons is a lot easier, especially when working with touch screens.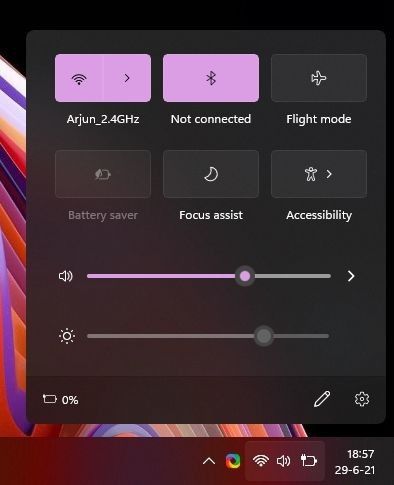 Now you just need to tap the "WiFi, volume and battery" button to open a new Action Center. Which will include all the necessary quick controls, including the screen brightness and volume sliders. Of course, if you want, you can also add other feature toggles here.
What's more interesting is that the Bluetooth connection is much faster now and you don't have to dig into the Settings app to pair your device. The Action Center will also display notifications with a clean design, providing ample space to reply to or delete cluttered notifications as needed.
New icon
Windows 10 hasn't changed much when it comes to icons, because there are actually a lot of icons left over from Windows 8, Windows Vista and even Windows 98. So Microsoft has made important changes when equipping it. new icons across its entire product range, and now Windows 11 is catching up with that change.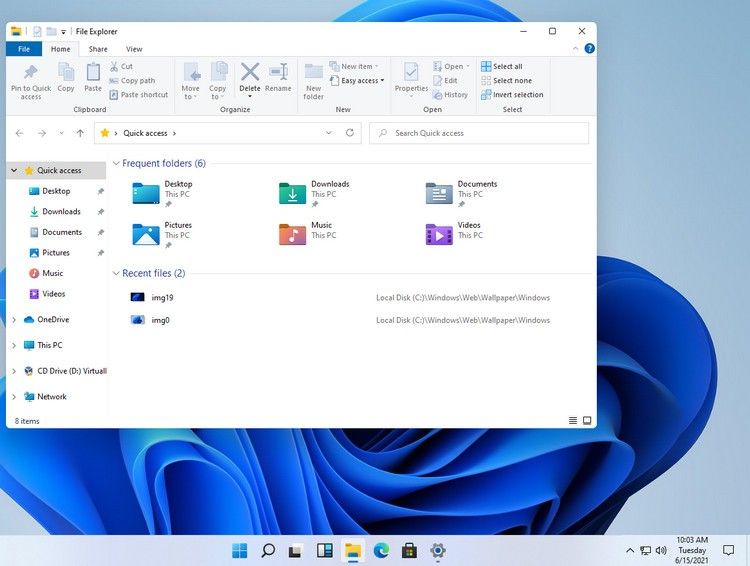 The upgrade brings new icons for documents, downloads, and images. As you navigate across the operating system, you'll see newer and more intuitive icons with corresponding content inside, making them easier for users to identify.
New context menu
Windows 11 finally brings a modern context menu that eliminates the edges, which helps bring back the overall aesthetic of Windows 11.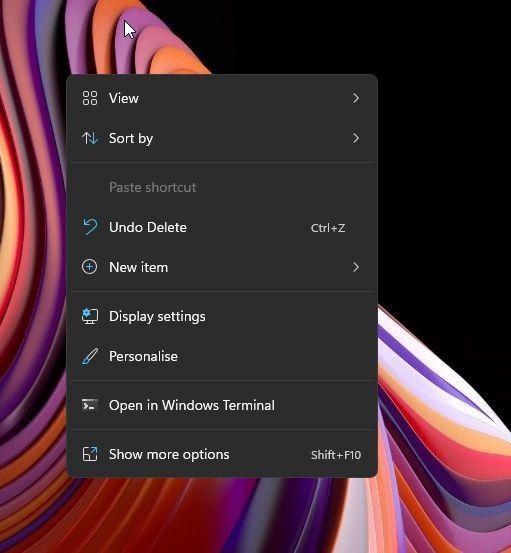 Interestingly, in this menu we no longer see the Refresh feature button, but if you want you can still access it when you select the Show more options option below. Of course, the F5 key of this feature is still active as ever.
Multimedia control
With Windows 11, users can now control all media playback from the Action Center. Whether you're playing YouTube videos, Spotify playlists, Twitter clips, or local videos, everything shows up in the Action Center.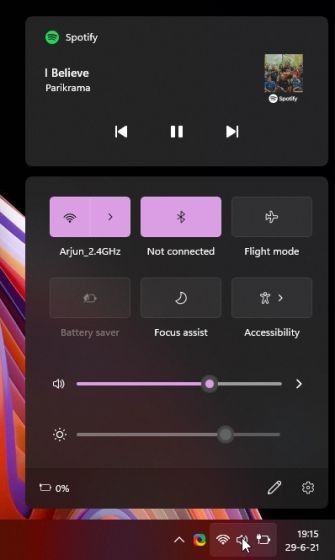 Note: The test of playing a video file stored on the computer through the VLC application does not show up in the Action Center, but opening through the Films & TV application does. So the problem will most likely be fixed in the final version.
Android app support
The main highlight of Windows 11 is that it is now possible to run Android apps without an emulator. However, Android applications currently only support Amazon's App Store, and Google's Play Store does not.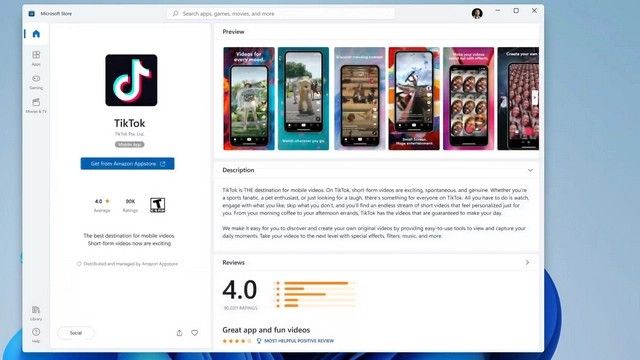 However, Microsoft has confirmed that the option to install Android apps from various sources will be available on the final finished version of Windows 11. But don't forget, you can still download APK files to your computer. running my Windows 11.
In terms of implementation, Microsoft has adopted the same approach as WSL 2 (Windows Subsystem for Linux). That means Android apps will run natively on Windows 11 and performance should be decent. Not to mention, Android apps will run on both Intel and AMD processors, regardless of whether Intel Bridge technology supports this feature or not.
New way to manage Virtual Desktop
Virtual desktops are also seeing an interesting change on Windows 11. Now, the management of virtual desktops has been moved to a dedicated area at the bottom of the screen and allows users to customize more.
You can even change the wallpaper individually on each virtual desktop and slide them left or right with your mouse and finger. That helps users quickly determine which desktop is being used for which task.
New File Explorer
File Explorer on Windows is a controversial feature among Windows users. Many users argue that changes to File Explorer are now unnecessary.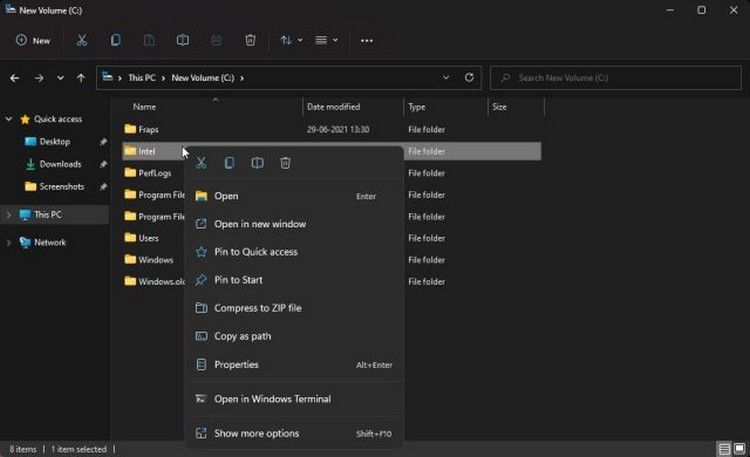 Obviously, though, the new File Explorer works well and has all the features you need. You now have colorful new icons, a new context menu with specific icons, and a toolbar with buttons at the top that has completely replaced the existing Ribbon menu bar.
Widgets
Last but not least are Widgets. This is considered a feature that has been revived with strong upgrades since the Windows Vista version.
That way you can instantly summon widgets with a single mouse click on the taskbar, then you'll get access to a new UI in the leftmost corner with many individual widgets divided into tiles. with specific information.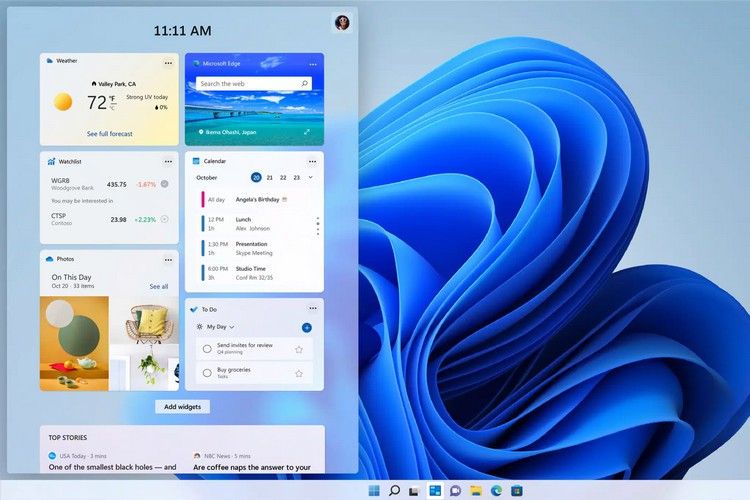 Through these widgets, users can quickly access important information that interests them without having to activate a web browser and then enter news website addresses to check the weather, traffic, etc. All are centrally located in one place for immediate access. Of course, if you want you can also rearrange the widgets, customize them based on your preferences, and of course the feed.
The above is a summary of new features and old features that have been upgraded by Microsoft on Windows 11 compared to WINdows 10. If you know any new features on Windows 11, please share with InsiderLab through the comments section below.